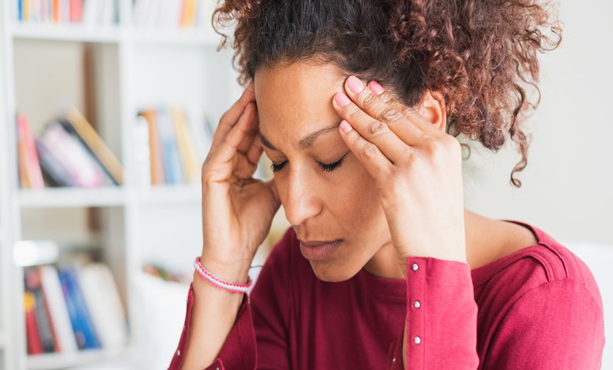 MIGRAINE
01 May, 2023
Posted by admin
OVERVIEW
Migraine is a neurological condition that causes severe throbbing and pulsating head pain. Usually, only one side of the head is affected. An attack of a migraine often lasts a few hours to a few days. The symptoms of a migraine include acute light and sound sensitivity, nausea, and vomiting. An individual's daily activities are hampered by it. The term "aura" refers to the accompanying symptoms. It happens before a headache starts.
The signs and symptoms can be lessened or avoided using oral medicines. However, leading a healthy lifestyle and eating well can be quite beneficial.
WHAT ARE THE CAUSES OF MIGRAINE?
The precise aetiology of migraines has not yet been identified. The brainstem's interactions with the trigeminal nerve are thought to have changed, nevertheless. Changes in serotonin levels, which aid in the nervous system's control of pain signals, could be a possible reason for this.
WHAT ARE THE RISK FACTORS OF MIGRAINE?
There are some factors that increase one's risk of migraine. Following are the migraine's risk factors:
Genetic propensity of migraine
Stress-inducing circumstances
Females are more susceptible than males
Smoking
WHAT ARE THE SEVERAL TRIGGERS OF MIGRAINE?
A migraine may develop for a variety of reasons. The following list includes migraine triggers:
Alcohol intake
Hormonal fluctuations
Extreme stress
Loud noises
Potent odours
Inadequate or excessive sleep
Strenuous exercise
Some medications (such as oral contraceptives, vasodilators, etc.)
WHAT ARE THE SIGNS AND SYMPTOMS OF MIGRAINE?
The following are typical migraine warning signs and symptoms:
Increased sensitivity to light and sound
Throbbing headache
Pain in one side of the head
Stiff neck
Nausea
Stomach pain
Loss of appetite
Tenderness in scalp
Sweating
Pallor
Lightheadedness
Blurred vision
Fever
Loose stools
Lack of concentration
Irritability
Depression
Difficulty in speaking
Insomnia
HOW THE DIAGNOSIS OF MIGRAINE IS DONE?
The doctor will do a physical examination of the patient. He will look for the signs and symptoms of the disease to the patient. He will take the past medical history and family history of the patient. He will recommend the following tests for the evaluation of the disease:
CHANDIGARH AYURVED CENTRE'S MEDICATIONS FOR THE TREATMENT OF MIGRAINE
Here are some of the medications of Chandigarh Ayurved centre which are used for the treatment of migraine: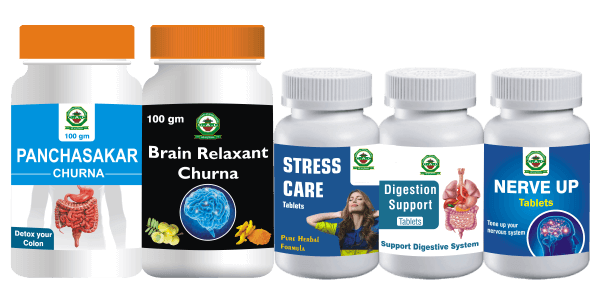 1. Nerve up tablet
CAC Nerve up tablet is a herbo-mineral tablet and is purely ayurvedic formulation.  CAC Nerve up tablets help in balancing the vata doshas. It reduces kapha dosha, and acts as nervine stimulant. It shows effective results in improving the central nervous system. It contains natural ingredients like shudha kuchala, shudha shilajeet, praval pishti, shankh bhasma etc. These contains natural vatahar properties and helps in curing vata diseases.
Recommended Dosage– Take 1 tablet twice daily with normal water.
2. Panchasakar Churna
This churna is specially made to remove the toxins from the body on a regular basis. This herbal remedy is made up of ingredients such as Haritaki (Terminalia chebula), Swarna patri (Cassia angustifolia), Shatapushpa (Foeniculum vulgare), Shunthi (Zingiber officinale), and Saindhavan lavana (Rock salt). It balances all the doshas and reduces the symptoms of associated diseases.
Recommended Dosage– Take 1 tablespoon with Lukewarm water at bedtime.
3. Sheet Dhara Syrup
Sheet Dhara is herbo mineral and purely ayurvedic formulation. It works on all the three doshas of body but mainly act on pitta dosha. It contains Ajwaion, Kapur (camphor) and Mint leaves that help reduce Acidity and burning sensation in chest region with its cooling effects. It relaxes your mind also maintains Bloodpressure. CAC Sheet dhara help in controlling mood swings by which many women are affected nowadays. It also controls burping ,nausea and bloating.
Recommended Dosage – Take 1/2 or 1 teaspoon of sheet dhara twice daily empty stomach.
4. Digestion Support tablet
This tablet is unique blend of best digestive herbs like kutaz chal, bilav, dhania, mustak, shankh bhasm, piper mint, and dadim that maintain natural Ph balance in the stomach and aid digestion of all types of food. The herbs present in this control acidity, gas, flatulence and constipation. These all complex problems are root cause of all diseases. If digestive system is proper it leads to proper assimilation of the nutrients in the body.
As per Ayurveda digestive disorders are due to imbalance of Pitta doshas. The Ama formation leads to digestive disorders.
Dosage– 1 tablet twice daily with plain water
5. Mann Mitra tablet
Mann Mitra tablet is herbal and purely ayurvedic medicine. It is used in Ayurvedic treatment for psychiatric conditions and help to balance all the three doshas of body i.e vata, pitta, kapha. CAC Mann Mitra tablet improves intelligence and speech problems. It is helpful for making the nervous system strong and nerves as well. It contains various herbs like Bala, Vacha, Shankhpushpi, Nagkeshar etc that help you fight insomnia, anxiety, and stress.
Recommended Dosage– Take 1 tablet twice daily with normal water.
6. Anu Tail
Anu tail is herbo mineral and purely ayurvedic formulation. It is used for ayurvedic treatment procedure known as Nasya treatment in most of the disease involving Ear, Nose and Throat involving pain. It has Tridosha balancing properties but mainly help to balance your Kapha dosha that cause Headache, running Nose or Sinusitis. It strengthens Ear, Eyes, Nose, Tongue and Throat.
Recommended Dosage– 2 drops twice a day in both nostrils