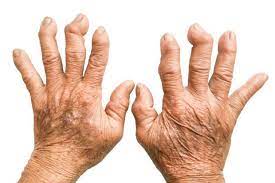 Natural treatment for Rheumatoid Arthritis
28 Dec, 2021
Posted by admin
Arthritis causes inflammation in the joints. Due to which it can affect the day to day functioning. Know which home remedies and medicines  can get rid of this pain.
Apart from poor lifestyle and diet, due to lack of calcium, vitamin D in the body, most of the people are facing the problem of Arthritis. This problem is happening not only to the elderly but to most of the youth after the age of 30. Arthritis is a condition characterized by inflammation in the joints of the body. Due to which you have to face the problem of joint pain along with problems in walking.
Your work is also greatly affected due to arthritis. To get rid of this problem, many types of medicines are consumed throughout life. But if you want, you can get rid of this problem 100 percent. According, by adopting some home remedies along with daily yoga, one can get rid of this problem forever.
Follow these Home remedies to get rid of the problem of Arthritis
Consume decoction of Giloy regularly.
Flowers and leaves of Harsingar, Parijat etc. are effective in getting rid of arthritis.
Make powder of turmeric, fenugreek and dry ginger. Consume it daily.
Eat 2-3 cloves of garlic every morning on an empty stomach. If you feel too hot, then cut the bud from the middle and put it in water. After that consume this. Apart from this, if you want, you can fry it in desi ghee and eat it.
Take guggul and Chandraprabha vati.
Drink bottle gourd juice regularly. With this you will get rid of joint pain as well as many other diseases.
Consume aloe vera juice daily in the morning.
Take cinnamon powder with honey. For this, if you want, mix half a teaspoon of cinnamon powder with one teaspoon of honey and consume it.
Steam therapy is very effective in getting rid of the problem of arthritis.
Massage the joints daily with pedantak oil.
Consume fenugreek laddus daily. It will be beneficial in arthritis and other diseases.
Due to the change in diet and changing routine, most of the people are struggling with the problem of weight gain. As a result, the body of such people becomes a stronghold of many diseases. The most prominent disease among them is Arthritis, due to which the sufferer starts complaining of pain in the joints and bones of the body. The main centers of this type of pain are the knees, elbows, fingers and soles. Sometimes the pain increases so much that, due to this swelling also comes in the joints, due to which it becomes difficult for the person to even sit up. According to the doctors, it is not easy to get rid of this disease usually due to overweight and old age. Its medicines have to be taken for a long time, due to which other side effects are also possible. Therefore, it would be better if you use the easy home remedies mentioned in Ayurveda. Arthritis treatment is present in the kitchen of every home. This can be cured with cinnamon. Let us know the easy way of treatment from this.
Cinnamon paste gives relief in pain
Make a thick paste by adding a few drops of water to cinnamon powder. Apply the paste of this paste on the painful joint and then cover it with a soft cloth, so that it is saved from coming out, as well as its aroma reaches inside the body, which gives relief in pain. Cinnamon has analgesic and anti-inflammatory properties. According to Ayurveda, its regular use provides relief in inflammation and pain due to arthritis.
Mix honey in cinnamon then see amazing
Mix one and a half teaspoon cinnamon powder and one teaspoon honey. Consume it every morning on an empty stomach with a cup of warm water. This gives relief in the pain of arthritis and reduces the uric acid deposited in the joints, due to which arthritis gradually subsides. If you keep following this process regularly without stopping, then you will start seeing its effect in the next one week.
These things also have a special place in the treatment of arthritis
Arthritis damages a person's joints, internal organs and skin. Apart from home remedies, it is also necessary to keep these things in mind to get relief from arthritis.
A person suffering from arthritis has to take great care of his weight, because excess weight puts pressure on your knees and hips, which causes pain. Also, it is not easy to get relief from the pain due to the weight of the body.
A person suffering from arthritis should first take a bath with hot water after waking up in the morning. This creates a shield over the sore area, which reduces the swelling rapidly.
If the doctor has given any medicine, then keep taking your medicine from time to time. It will give relief in pain and stiffness.