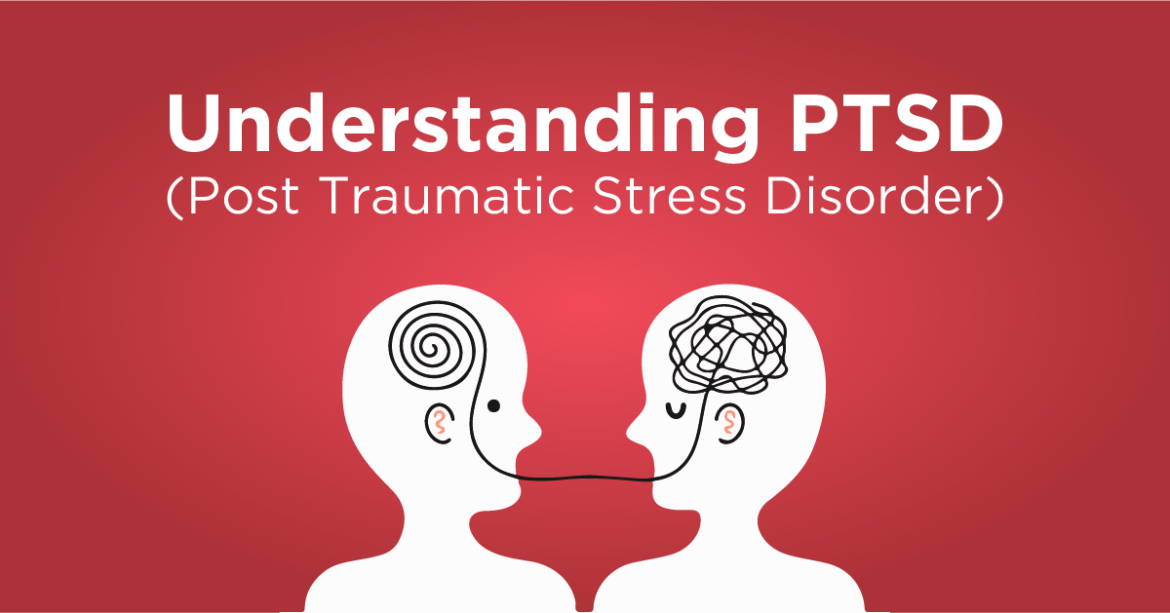 POST TRAUMATIC STRESS DISORDER
01 Nov, 2021
Posted by admin
ABOUT POSTTRAUMATIC STRESS DISORDER
Posttraumatic stress disorder (PTSD) is a psychiatric (Mental) disorder characterized by failure to recover after experiencing or witnessing a terrifying event.
Symptoms may include severe anxiety, depression, guilt, flashbacks, low self- esteem and nightmares as well as uncontrollable thoughts about the incidence.
TYPES OF TRAUMATIC EVENTS
The most common incidences that can develop Posttraumatic stress disorder (PTSD) are:
bulling
Combat exposure
Sexual violence
Medical trauma
Physical abuse
Terrorism and violence
Being threatened with a weapon
An accident
Early Childhood physical abuse
COMPLICATIONS
Post-traumatic stress disorder can disrupt your whole life such as careers, relationships, health and everyday activities.
PTSD can also raise risk of some other psychiatric problems, like:
Eating disorders
Issues with drugs or alcohol use
Suicidal thoughts and actions
MANAGEMENT FOR POSTTRAUMATIC STRESS DISORDER (PSTD)
The most effective treatments for PTSD (post-traumatic stress disorder) are medicines and psychological therapies.
Therapy is a first-line of treatment to cure people with Post-traumatic stress disorder (PSTD)
There are 3 main types of therapy a person with trauma could benefit
COGNITIVE PROCESSING THERAPY (CPT)
Cognitive Processing Therapy (CPT) is based on a social cognitive theory that focuses on how the event or symptoms are construed and coped with by a person who is trying to regain a sense of mastery and control in his /her life.
EYE MOVEMENT DESENSITIZATION AND REPROCESSING (EMDR)
EMDR stands for eye movement desensitization and reprocessing.
Powerful, evidence-based management that can be used to help folks overcome, traumatic experiences, Post-traumatic stress disorder (PSTD), and more.
PROLONGED EXPOSURE THERAPY
Prolonged Exposure Therapy is considered behavioral treatment that gradually approaches PSTD (Post-traumatic stress disorder).
The aim of prolonged exposure therapy is to help reduce a person's fear and anxiety and increasing quality of life.
Anti-anxiety and antidepressant medications can help PSTD patients combat with symptoms of anxiety, depression, anger, insomnia and nightmares. Medications used to treat symptoms of Post-traumatic stress disorder (PTSD) are:
Beta-blockers
Monoamine oxidase inhibitors (MAOIs)
Benzodiazepines
Antipsychotics or second generation antipsychotics (SGAs)
A BALANCED LIFESTYLE
People with posttraumatic disorder can have difficulty to get enough sleep. However, relaxation, sleep and diet all play a role in mental health. Researcher suggests that a balanced living is significant for managing Posttraumatic stress disorder (PTSD) and in promoting good health. For Healthy living a person should try to:
7–8 hours good night sleep
Eat a balanced diet
Limit drugs and alcohol
Relieve stress with help of enjoyable activities
Regular physical exercise
Relaxation therapy
Healthy relationships
Community involvement
AYURVEDIC APPROACH FOR POST-TRAUMATIC STRESS DISORDER –PTSD
According to Ayurveda science Manovikaras arising due to the initial impairment of the manasa (mental) doshas (rajas and tamas) and treated mainly with Psychiatric councelling (Satwawajaya chikitsa) coupled with secondary drug therapy.
Some Incredible Medhya herbs that are beneficial in PSTD include:
Mandukaparni (Centella asiatica)
Yastimadhu (Glycirrhiza glabra)
Guduchi (Tinospora cordifolia )
Shankhapushpi (Convolvulus pleuricaulis)
DIETARY MODIFICATION (AAHAR)
Diet vastly affects the agni, tridoshas and the manas (mind).
A wholesome healthy diet is essential for mental health and happiness.
Food that vitiates vata in the body such as raw, uncooked food salads should be avoided.
Instead spices such as cumin, garlic, cloves, black pepper and oils like ghee, sesame oil should be consumed.
Include more of Madhura rasa (sweet) and Amla rasa (sour taste) to strengthen the Indriya (sense organ)
These rasa positively influences the positive state of mind (satva).
LIFESTYLE MODIFICATION (VIHAR)
Maintain a proper daily routine (Dinacharya) which helps in balancing vata.
Wake up and sleep at the proper time.
Focus on the needs of the body.
Do light exercise and gentle, calming, and slow-paced Yoga asanas that are efficacious and helpful in management of post-traumatic stress disorder.
Some Yoga asanas and pranayama are as follow –
Shavasana (corpse pose)
Bhramari Pranayama
Paschimottasana (seated forward bend pose)
Ardha matsyendrasana (half spinal twist pose)
Following Ayurvedic therapies are helpful to manage PTSD
SHIRODHARA
Shirodhara, is a procedure in which medicated or buttermilk are drippedl over the forehead in a slow, steady stream.
It helps in relaxing and calming the senses (indruya) and also supports normal functioning of mind and body.
Shirodhara gives you a sense of tranquillity.
This process balances Vata dosha, clears Srotas (energy channels) and the continuous pouring of oil brings a sense of deep relaxation by working on vital energy point (Marma) and removing sensory overload.
ABHYANGA (oil massage)
Abhyanga, is highly beneficial in balancing vitiated Vata dosha in your body.
In Ayurveda as it ensures optimal strength to senses and rejuvenation.
Oil massage provides a complete relaxation of the body and mind and it can be of immense use in PTSD.
Regular body massage with CAC's Mahanarayan oil, that is a unique combination of naturally occurring Vata-pacifying herbs such like Bala, Licorice, Ashwagandha in a base of sesame oil.
Mahanarayan oil has refreshingly light and nourishing properties.
This oil is also an amazing recipe for relief from fatigue and stress, thus makes one feel energized.
Bio-purification methods such as Snehana karma (oleation), Svedana karma, Basti (Medicated enema) and Nasya (nasal medication) may be helpful in conditions of post-traumatic stress disorder.