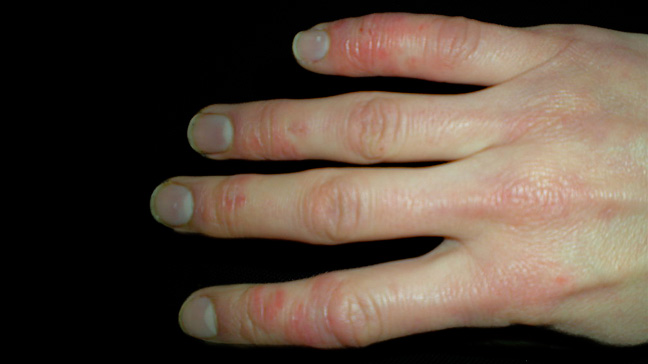 SCLERODERMA, TYPES, CAUSES, SYMPTOMS AND AYURVEDIC TREATMENT
26 Feb, 2022
Posted by admin
Scleroderma is also called as systemic sclerosis. It is a chronic autoimmune disease in which there is hardening and tightening of the skin.
It is a rare disease in which the normal tissue is replaced with thick tissue due to extra collagen.
Scleroderma can also affect other parts of the body like lungs, heart, gastrointestinal tract, blood vessels, muscles and joints.
Normally, the immune system of the body helps in protection against disease and infection. However, sclerodermic patients' immune system triggers excessive production of an elastic protein called collagen. This protein provides elasticity to the skin but when produced in excess, it causes hardening and thickening of the concerned tissue.
Scleroderma also can affect many other parts of the body including the gastrointestinal tract, lungs, kidneys, heart, blood vessels, muscles and joints. Scleroderma in its most severe forms can be life-threatening.
TYPES OF SCLERODERMA
There are two major types of scleroderma:
Localized scleroderma
Systemic scleroderma
LOCALIZED SCLERODERMA 
It mainly affects the skin and only at a few places.
It appears in the form of waxy patches or streaks present on the skin.
When present in the form of round patches, it is called morphea. The patches are first red or purple in color and then turn white in the center.
When thickened lines or streaks are present on the arms, legs or face, it is called linear scleroderma
SYSTEMIC SCLERODERMA
It is also known as Generalized Scleroderma. It affects many parts or systems of the body.
Systemic Scleroderma is further of 2 types :
Limited scleroderma
It slowly affects the skin of face, hands and feet.
It affects many internal organs like lungs, intestine, oesophagus
It is also known as CREST syndrome as it has 5 common signs:
Cfor Calcinosis – abnormal calcium deposition in the skin.
Rfor Raynaud's phenomenon – less blood flow to parts of the body such as fingers, toes or nose. Body parts may turn blue.
Efor Esophageal immotility – difficulty in swallowing
Sfor Sclerodactyly – skin thickening, causes problems in movement of fingers or toes
Tfor Telangectasias –  small blood vessels grow near the surface thus making red spots on the skin
Diffused scleroderma
It spreads rapidly. It mostly affects the middle part of the body, upper arms, hands and feet.
Heart, lungs, gastrointestinal tract and kidneys get affected.
CAUSES
The exact cause of scleroderma is unknown. It is a rare autoimmune disease in which immune system starts attacking the body's own cells causing inflammation of the area.
It is caused by an overproduction and accumulation of collagen protein in body tissues. Collagen is an elastic and fibrous protein that makes up connective tissues of the body. However the cause of this overproduction by immune system is not exactly known.
It also runs in families. It is thus caused by a combination of environmental, genetic and immune system problems.
RISK FACTORS
It mostly affects women and people above the age of 35 years. However, there are certain risk factors which make the person more prone to scleroderma:
Genetics: People having certain genetic variations are more likely to have scleroderma. So it is seen in some families over the generations.
Environmental triggers: Scleroderma appears on exposure to certain environmental factors like certain viruses, drugs or medications. Repeated exposure to certain harmful substances increases the risk of scleroderma.
Immune system problems.It is an autoimmune disease.  The body's immune system starts attacking its own connective tissues. People with scleroderma may show some symptoms of another autoimmune disease — such as Sjogren's syndrome, lupus or rheumatoid arthritis.
SYMPTOMS
Scleroderma affects many body parts or organ systems. These are:
Hard or thick skin that looks shiny and smooth. It is mostly present on hands and face
Sores or ulcers on fingertips and toes
Small red spots on the chest and face
Dysphagia
Painful and swollen joints
Fatigue
Sjogren's syndrome- dry eyes and dry mouth
Difficulty in breathing
Bloating
Loose stools
Weight loss
Excessive calcium deposition in the skin
Tight facial skin
Persistent cough
Gastrointestinal problems
Constipation
Hair loss
Fecal incontinence
Dizziness
COMPLICATIONS
Scleroderma has various complications ranging from mild to severe. Following are some of the complications:
Scarring of lung tissue leads to decreased ability to breathe and less tolerance for exercise
Restricted blood flow in fingertips can cause sores on tips
Sudden increase in blood pressure
Heart tissue scarring increases risk of abnormal heartbeats and congestive heart failure
Inflammation of membrane of heart
Digestive problems like heartburn and difficulty in swallowing
Decrease in joint mobility and flexibility
Kidney failure
DIAGNOSIS
As scleroderma affects many different areas of the body, it's diagnosis is difficult.
The doctor will do a thorough physical examination. He will look for various signs and symptoms of the disease. If scleroderma is suspected then he will suggest the following tests:
Blood tests
Imaging tests such as X-rays and CT scans
Pulmonary function tests
Echocardiogram
Gastrointestinal tests such as endoscopy
TREATMENT
There is no cure for scleroderma. However, the treatment is directed at controlling and managing the symptoms of the disease. Scleroderma has various symptoms and a combination of different approaches is needed to treat the disease.
MEDICATIONS
Nonsteroidal anti-inflammatory drugs like ibuprofen or aspirin. These medicines help in relieving pain and swelling
Steroids help to slow the immune system thereby lessening the immune response. This helps with joint, muscle or internal organ problems.
Drugs which increase blood flow to the fingers and toes
Medicines for management of blood pressure
Acid reflux medication
Antibiotics
Other methods which are helpful in recovery from scleroderma along with medications are :
Physical Exercise
Skin treatment like light and laser therapy
Increased intake of fiber and fluids in the diet
Physical therapy
Occupational therapy
Stress management
Organ transplant if required