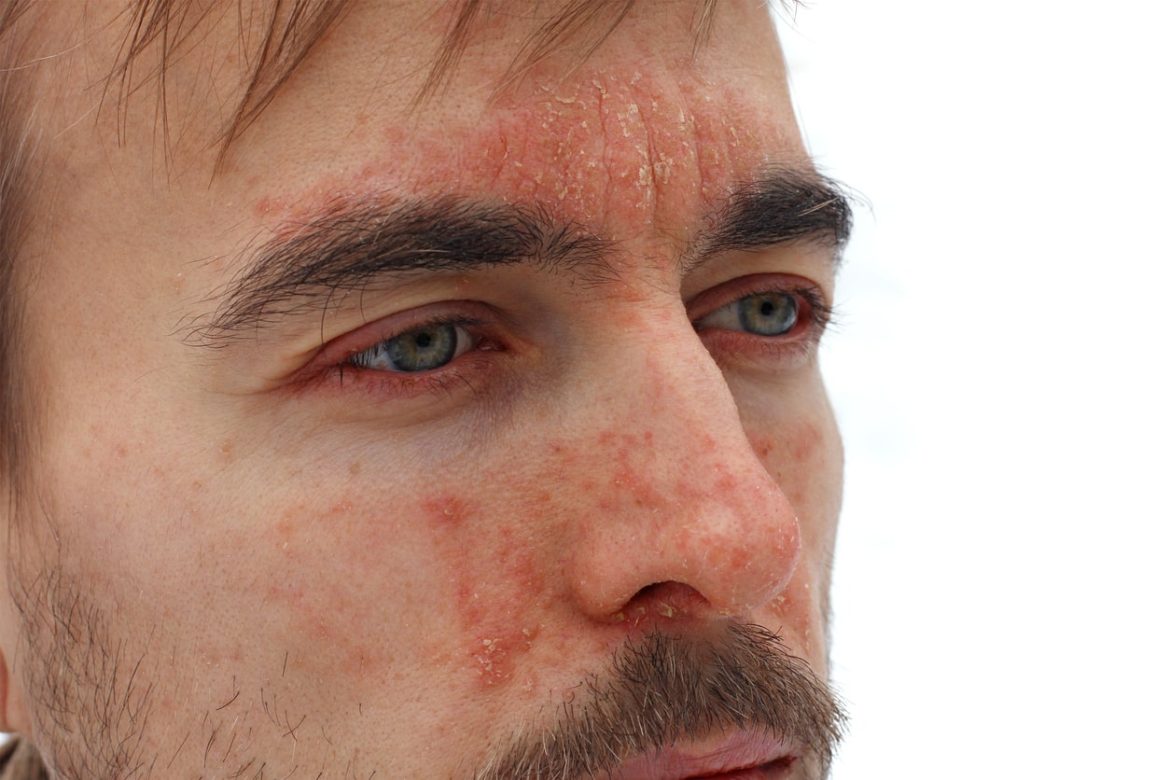 SEBORRHEIC DERMATITIS
16 Oct, 2021
Posted by admin
What Is Seborrheic Dermatitis?
1.Seborrheic dermatitis is a very common skin disease that causes a red rash.
2.This type of dermatitis causes itchy red patches and greasy scales on the skin.
3.It is common but not contagious.
4.It causes redness on light skin and light patches on darker skin.
CAUSES OF SEBORRHEIC DERMATITIS
The exact cause of this type of dermatitis is not completely known. Researchers think there may be many causes, including:
1.Stress
2.Hereditary cause
3.A yeast that usually lives on your skin without causing problems
4.Certain medical conditions and medicines
5.Dry and cold weather
6.An irregular response of the immune system
7.Exposure to harsh chemicals
8.It doesn't come from an allergy or from being unclean.
SEBORRHEIC DERMATITIS RISK FACTORS
1.It occurs most often in newborns and in adults ages 30 to 60.
2.People with oily skin are more prone to get this type of dermatitis.
Following conditions can increase risk of developing the seborrheic dermatitis, including-
1.Depression
2.Psoriasis
3.Oily skin
4.Alcoholism
5.Facial nerve palsy
6.Hormonal changes
7.Environmental factors, like pollution
8.Spinal cord injury
9.Eating disorders
10.Epilepsy
11.Heart attack or stroke recovery
12.Medical conditions such as AIDs and Parkinson's disease
13.Rosacea
SEBORRHEIC DERMATITIS SYMPTOMS
1.Itchy white flakes on the scalp (dandruff)
2.Crusty yellow or brown scales on infants' heads
3.Red scales on your skin.
4.Scaly redness on the edges of your eyelids (Blepharitis)
5.Inflamed hair follicles on cheeks
6.Inflamed hair follicles on upper half of trunk
7.Pinkish thick skin (plaques ) of scales on both sides of the face
8.Redness especially in the folds and creases of armpits, genitals and beneath breasts.
DIFFRENCIAL DIAGNOSIS
DANDRUFF-
1.Dandruff is a condition in which White, oily, itchy flakes are found on the scalp.
2.That can be worsening during fall and winter months when air is dry.
ROSACEA
Red, small, pus-filled bumps on the skin appearing in cycles of flare-ups
PSORIASIS
Thick patches of dry, red, inflamed skin covered in silvery-white scales. Patches are often itchy.
TINEA VERSICOLOR
1.Small, discolored, flaky patches of skin ranging in color from white to tan to brown to pink
ATOPIC DERMATITIS (ECZEMA)
2.Atopic dermatitis is a condition that makes your skin dry and itchy.
3.It is also known as eczema, is a type of skin rash.
What Remedies Can Be Done At Home?
1.Using over-the-counter (OTC) antifungal and anti-itch creams
2.Another option for at-home treatment is to coat your scalp with olive oil.
3.Using hypoallergenic soap and detergent
4.To avoid skin irritation wear loose cotton cloth
5.Apple cider vinegar reduces the inflammation in the area of the flare-up.
6.To treat seborrheic dermatitis on your scalp, wash your hair with a mild Ayurvedic shampoo first. Then, apply apple cider vinegar to your scalp.
7.Apply aloe vera gel to the affected area and leave it on. It is well known for its anti-inflammatory properties and works wonder in treating seborrheic dermatitis.
MEDICAL TREATMENTS
Seborrheic dermatitis may go away without treatment Or you may need many repeated treatments for seborrheic dermatitis outbreaks.
CORTICOSTEROIDS
1.Corticosteroids or hydrocortisone containing shampoos and creams can help reduce severe inflammation.
2.These shampoo and creams are suitable for short-term use, long -term use can cause side effects.
KERATOLYTICS
Using a product containing salicylic acid, lactic acid, urea, and propylene glycol etc. can help remove scales.
ANTIBACTERIAL GELS
These can help in the case of a bacterial infection.
ANTIFUNGAL CREAMS
These can help in the case of a fungal infection.
LIGHT THERAPY
Exposing the affected area to UV light may help soothe the skin and reduce itching and redness.
COAL TAR CREAM
1.This cream can help slow the process of skin cells dying and falling off.
2.Apply coal tar cream to affected areas and leave it for 4 to 5 hours.
3.After that remove it with help of mild shampoo.
DIET FOR SEBORRHEIC DERMATITIS
1.Tomatoes
2.Almonds
3.Sweet potatoes
4.Plenty of green and leafy vegetables
5.Foods that is high in vitamin c, such as citrus and bell peppers.
6.Foods that are rich in vitamin B, such as whole grains (rice, oats, wheat etc), legumes (soy, lentils, dried beans, peas) and nuts.
7.Foods that are rich in proteins, such as peanuts and walnuts etc.
8.Foods with plenty of vitamin e, such as wheat germ, olive oil and avocados.
9.Add antioxidants rich fruits, such as cherries, strawberries, and blueberries in your diet.
LIFE STYLE CHANGES FOR SEBORRHEIC DERMATITIS
1.Soften and remove scales from the hairs
2.To avoid skin irritation wear a smooth-textured cotton cloth.
3.Wash your skin regularly
4.Apply a medicated gel and cream
5.Avoid styling products such as excessive makeup, hair straightener, and dryer.
6.Skin and hair products that contain too much alcohol are to be avoided.