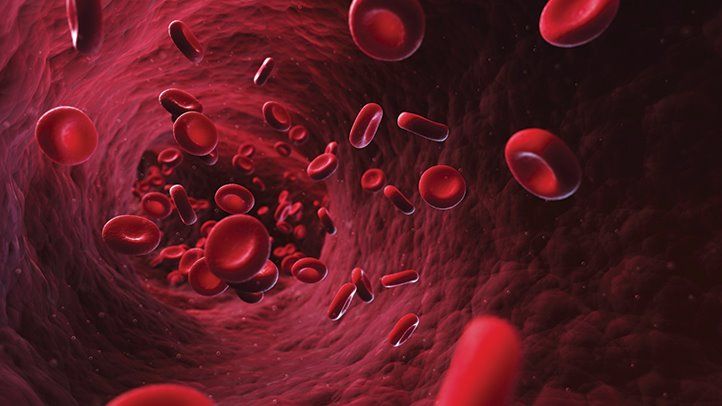 SIDE EFFECTS OF ANEMIA
12 Jul, 2023
Posted by admin
Anemia is a condition that indicates a decreasing number of healthy red blood cells (RBCs) or a low amount of hemoglobin (Hb) in them. The iron-containing protein in red blood cells is called hemoglobin (Hb). It carries oxygen from the lungs to the organs and tissues of the body and returns carbon dioxide to the lungs for exhalation. Bone marrow produces red blood cells; they live for about 120 days and later die. There are several different types of anemia, but each of them causes a decrease in circulating red blood cells. Iron deficiency anemia (IDA) means that there is not enough iron in the body. Iron is important for many important body functions, such as helping with the production of hemoglobin. It is important for maintaining healthy cells, hair, skin and nails. Iron supports a healthy pregnancy, increased energy and improved athletic performance. This anemia usually affects more women than men and is common during pregnancy. The most common type of anemia is iron deficiency anemia (IDA), which is a common nutritional deficiency disease.
SYMPTOMS OF IRON DEFICIENCY
The symptoms of iron deficiency anemia vary from person to person. Initially, they may be mild, but over a long period of time as the deficiency worsens, signs and symptoms become apparent. The signs and symptoms of anemia are as follows:
Extreme fatigue
Pale skin
Pain in chest
Shortness of breath
Fast heartbeat
Sore or swollen tongue
Enlarged spleen
Cold hands and feet
Headache
Dizziness
Irritability
Brittle nails
Poor appetite
Craving peculiar substances such as ice, starch or dirt
IRON DEFICIENCY DISEASE
Heart and lung problems – People who have complaints of anemia there may be problems related to his heart and lungs. Iron deficiency causes many complications in the heart and lungs. As the heartbeat becomes faster, sometimes there can be a danger of heart failure.
Fatigue and weakness – You may feel tired due to lack of iron in the body. You may feel weak due to iron deficiency. In such a situation, you may be unable to do many of your daily tasks. Due to iron deficiency, there may be difficulty in concentrating your attention at one place. You feel so tired that you cannot even exercise.
Problems in pregnancy – Iron deficiency often occurs in pregnant women. Anemia can be a serious problem in pregnancy. Iron deficiency can cause problems in the baby during birth. Many times there is a risk of premature birth of the baby due to iron deficiency. It can also lead to low birth weight, iron deficiency or mental retardation in the baby.
Hair and skin related diseases – Due to iron deficiency, problems related to hair and skin also start in the body. Due to iron deficiency, dryness and spots start appearing in the skin. Due to which the skin becomes lifeless and the color starts to fade. Iron deficiency causes hair fall and dandruff problems. Hair also starts turning white due to iron deficiency.
Cold hands and feet – According to health experts, apart from the general symptoms of iron deficiency, some people may also feel its signs in the hands and feet. People whose body is deficient in iron, their hands and feet often remain cold.
WHY THERE IS IRON DEFICIENCY IN THE BODY?
According to health experts, there are many reasons that can lead to the deficiency of this very essential macronutrient in the body. Iron is contained within the red blood cells present in the blood, in many situations iron deficiency can occur due to excessive loss of blood from the body. Women are at a higher risk of iron deficiency anemia due to menstruation. Apart from this, the risk of this problem also increases due to lack of nutrition and iron-rich things in the food.
NATURAL WAYS TO INCREASE IRON DEFICENCY ANEMIA
Beetroot – Consumption of beetroot increases hemoglobin. Along with this, if you eat beetroot leaves then you will get more iron. Its leaves contain three times more iron than beetroot.
Amla and Jamun – Mixing equal quantity of gooseberry and jamun juice and drinking it increases the hemoglobin level.
Pistachios – There are 30 different types of vitamins found in pistachios. Iron is also rich in it.
Pomegranate – Apart from magnesium, calcium, vitamin C, pomegranate also contains a good amount of iron. Hemoglobin can be increased by drinking two spoons of pomegranate powder in a glass of lukewarm milk.
Spinach – Consuming spinach when there is a deficiency of hemoglobin, its deficiency in the body is fulfilled. The amount of iron in spinach is very high.
Dry Raisins – Raisins fulfill the deficiency of vitamin B complex required for blood formation. You can increase your hemoglobin by consuming iron-rich dry black raisins.
Figs – Vitamin A, B1, B2, calcium, iron, phosphorus, manganese, sodium, potassium and chlorine are found in figs. Hemoglobin level can be increased by soaking two figs in water at night, drinking its water in the morning and eating figs.
Ripe Guava – There is no deficiency of hemoglobin in the body by eating ripe guava.
Banana – Hemoglobin level can be increased by consuming banana with honey or amla juice.