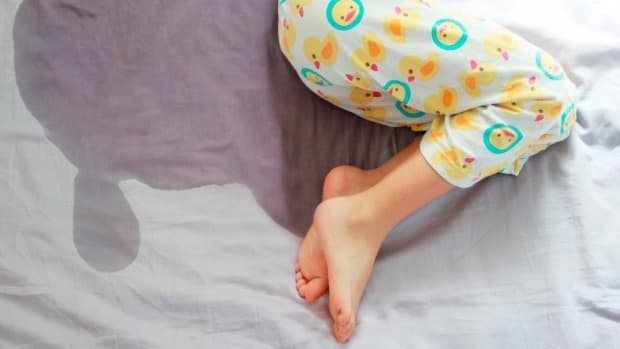 THE BEDWETTING
01 Feb, 2022
Posted by admin
Bedwetting habit in kids: It is very common for a child between one and four years old to wet the bed. That's because they don't have that much understanding of anything. But when children of 5 to 10 years old also do toilet on the bed at night, then it becomes necessary to get rid of this habit. Sometimes this also happens by drinking more water before sleeping. In many children, this habit does not leave even after a lot of treatment.
No need to be worried. You can also reduce this habit by trying some home remedies for child bedwetting. If even after trying these remedies, the habit of bedwetting does not go away, then contact a good pediatrician.
 Causes of Bedwetting habits in kids
Many times children urinate on the bed at night due to emotional, fear or even mental stress. This happens due to cold and also due to family history. The other siblings in the house may do this first.
Fear and stress- If the child wets the bed, do not scold them too much. You explain it to him with love. The day he/she doesn't pee, reward him. This will not stress out your child and also will make them Happy.
Health issues- Consider whether there is a problem of urinary tract infection, fever, vomiting, loss of appetite, hormonal imbalance, etc. If so, then you take care of him/her, give medicines.
Proper toilet Training- One hour before going to bed and before going to bed, make sure the child gets the toilet done. This will develop the habit of toileting before going to bed.
Dark Room- Do not keep the child's room absolutely dark. There should be a slight light lit. Sometimes they get scared due to darkness and are afraid to get out of bed. Because of this also they urinate in their sleep.
Tea/ Caffeinated Beverages– The child does not drink any caffeinated beverages. Many children start drinking tea at a young age. This also leads to the habit of wetting the bed. Drinking tea and coffee at such a young age is not good for the health of children.
AYURVEDA REMEDIES FOR BED WETTING
Some remedies are very effective for the problem of Bed Wetting-
Dry dates
Feed some pieces of dry dates to the children who wet the bed before sleeping.
Also, keep in mind that do not give them liquids after evening and feed them by making potato pudding in the food.
This treatment will eliminate this problem.
Nutmeg
Mixing a quarter teaspoon in a cup of lukewarm milk and giving it to the child in the morning and evening.
It helps in solving the problem of wetting the bed.
Milk and jaggery
Due to the cold, many times we urinate in the bed at night.
Consumption of jaggery brings heat in the body, due to which there is a decrease in urination on the bed.
For this, let the children eat jaggery with lukewarm milk every morning.
Walnut
Feed two walnuts and 10-12 raisins to the children daily for 15-20 days.
The habit of urinating of your child in bed will go away.
You can mix two grams of brown sugar candy and give one spoonful quantity to the child.
Drink cold water over it, it will cure the disease of urinating in the bed.
Gooseberry
Mix one gram of ground amla, one gram of ground black cumin and two grams of powdered sugar candy and give one spoonful quantity to the child. Pour cold water over it.
This will remove the disease of urination in the bed.
Grind 50 grams dry gooseberry and 50 grams black cumin seeds and mix them in 300 grams pure honey. Give six grams of this to the children in the morning and evening.
Banana
Give the child half a banana and a quarter cup of gooseberry juice mixed with sugar as per taste.
This will stop the frequent urination of the child.
Blackberry
Mix the powder of Jamun kernels with water and give it to the child.
The child will stop urinating in bed.