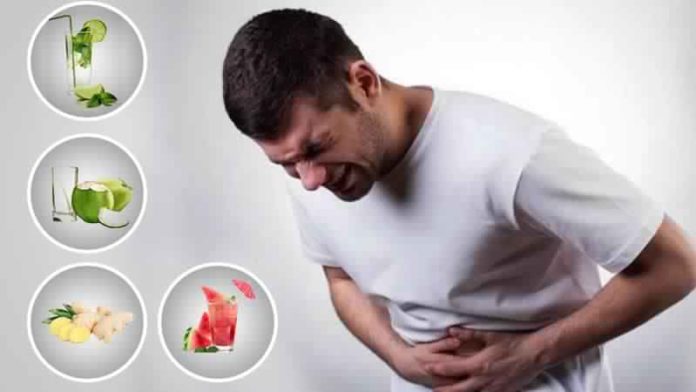 Top 9 Home Remedies for getting relief from Acidity
28 Aug, 2021
Posted by admin
What is Acidity ?
To digest the ingested food , gastric glands of stomach secretes acid. When these gastric acid is secreted in more than the normal or in excess amount then the condition is known as acidity.
This condition is characterized by heartburn felt around the lower chest area, which is caused by stomach acid flowing back up into the food pipe. The most  common causes  for acidity is poor life style  and unhealthy eating habits .
Causes of Acidity
Some common causes that leads to  excessive acid secretion in stomach are
Unhealthy eating habits
Skipping meals and eating food at irregular intervals
Overeating
Having too much  spicy , junk food
High intake of table salt
Taking  diet that is  low in dietary fiber
Excessive consumption of certain type of  food
Taking drinks such as tea, coffee, carbonated drinks, soft drinks frequently or in high amount.
Extremely spicy food
 Taking fat rich food such as burger, pizza, doughnuts, and fried food
Consumption of non- vegetarian  food
Alcohol intake in high amount
Taking medication of certain diseases
It includes medications such as
Non-steroidal anti-inflammatory drugs
Medicines for high blood pressure
Antibiotics
Depression and anxiety medication
Stomach disorders
Some kind of stomach disorders like peptic ulcers, duodenal ulcers, GERD ( gastroesophageal reflux disease) , tumors and many others .
5.Poor Life style habits
Lack of sleep
Stress
No physical activity
Frequent smoking
Symptoms of acidity
Burning sensation and pain in the stomach and throat
Difficulty in swallowing of food .
Frequent burping or hiccups .
Burning sensation and pain in the chest
Regurgitation: Prolonged sour taste in the mouth or bitter-tasting acid that backs up into your throat and mouth
 Heaviness after taking meal
Nausea
Constipation
Indigestion
Anorexia
Treatment
Condition of Acidity is diagnosed by taking history of patient.
In modern science  antacids, proton pump inhibitors , H2 blockers are given depends upon the severity of the condition .
Acidity Treatment in Ayurveda
In Ayurveda  this condition is co- related with Amlapitta. In this condition there is vitiation of pitta dosha in which  natural taste of Pitta dosha i.e. katu , get altered and converted into amla . In this condition excessive amount of vitiated pitta formed and cause several digestion related disorders.
In Ayurveda many herbs are prescribed to treat this condition . Most commonly Herbs that are useful in acidity are  Amla , Shatapushpa (saunf) , Giloy , Haridra , Aloe vera , Kalmegha , Yashtimadhu , Ajamoda , Patol  and many more.
It is best to treat this problem with ayurveda as there is complete cure of acidity in ayurveda which treat the root cause and  prevents the re- occurrence of the disease.
For this purpose Chandigarh Ayurveda Centre provides the
'Acidity care kit'  as best and effective natural treatment of acidity . Acidity care kit is a combination of six ayurvedic medicines that are
Agnimukha Churna      –   1/2 tsp twice daily
Puran Pachak                –   2 tsp twice daily
Sheet Dhara                   –   1/2 tsp twice daily
Panchasakar Churna    –   1 tsp daily at bed time
Liver Care Tablet           –   1 tab twice daily
Pitta Balance Tablets   –    1 tab twice daily
This Acidity care kit contains medicines that are purely ayurvedic , balance your doshas and thus effective in curing Acidity and other stomach related issues.
Home remedies that are  useful in acidity
There is list of simple and effective remedies that will help you to get relief from acidity
1.Amla or Indian gooseberry 
Amla is the powerful anti inflammatory and anti oxidant agent and is used in various digestion related issues. Amla helps to reduce the elevated levels of pitta dosha that is the main reason of acidity.
How to use
Boil amla in water and cut in pieces . Mix salt in them and make them dry under sunlight. Chew this sundried amla for instant relief
Amla juice should be taken 2-4 tsp empty stomach.
Take 1 tsp Amla powder , boil in one glass of water and take this after cooling.
2.Aloe vera 
Aloe vera is one of the remedy for acidity as it give immediate relief in heartburn. Aloe vera contains anti-inflammatory properties and important vitamins that are helpful in gastric problems .
How to use
Extract the pulp from aloe vera leaves, mix it with water and have it 2-3 times a day for effective heartburn relief.
Take 2-4 tsp of Aloe juice empty stomach.
3.Cumin seeds
Cumin seeds are one of the commonly used home remedy for   treatment for acid reflux.
How to use 
Take one tsp of cumin seed powder , boil this in water and filter . Keep this water drinking instead of normal water  This is quite an effective remedy for hyperacidity.
4.Mint leaves 
Commonly known as pudina . Mint leaves contains a compound menthol which is beneficial in treating stomach disturbances. Pudina contains the digestive properties and have natural cooling effect.
How to use 
A cup of mint tea acts as an effective natural remedy for acid reflux.
Boil the mint leaves and then drink the water.
5. Tulsi or basil leaves 
Also known as Basil, these leaves help produce mucous in our stomach and prevents heartburn.
How to use 
Boil tulsi leaves in water and drink it to get immediate relief from acidity.
You can chew just 2-3 tulsi leaves
6. liquorice 
Liquorice contains glycyrrhizin that  has a soothening effect , helps to prevent acidity and heartburn.
How to use 
You can reduce liquorice root to powder, then to half a spoon of this powder add little honey to form a paste. Lick to consume this paste twice daily after meals. Liquorice neutralizes the acids quickly to give relief.
Take 1tsp of mulethi with milk this will help to reduce acidity.
7.Ginger ( saunth)
Ginger  is a commonly used natural remedy for  acidity ,upset stomach and indigestion.
Ginger contains chemicals called gingerols and shogaols that can help speed up stomach contractions and help in digestion of undigested food so cure many kind of stomach related issues like indigestion, nausea , vomiting, acidity etc.
How to use
Ginger is used by adding in tea or make simple decoction with ginger and take it
Add Ginger in your cooking.
8.Coconut water
Coconut water is rich source of fiber and give good results in acidity as it soothes your digestive system.
Taking  1 – 2 glasses of coconut water daily will help you with heartburn relief.
9. Cold milk 
This is one of simplest and effective home remedy for acidty. As milk is rich in calcium , so prevents  acidic buildup  in stomach. One simple glass of cold milk will help you get relief from acidity.