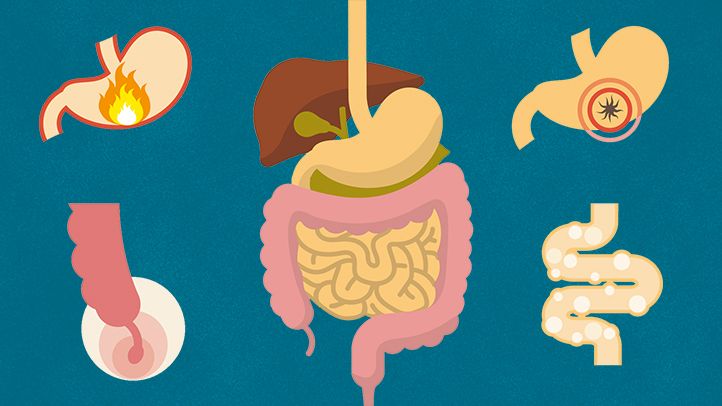 Treat Digestive Problems with Home Remedies
06 Oct, 2021
Posted by admin
People's health has also been affected after the decision of lockdown across the world to protect against Corona virus Pandemic. Due to the lockdown, people have now tied themselves in their homes. People are not only following social distancing but are also doing office work from home. Work from Home is now being called the New Normal.
But, due to continuous sitting and working and lack of physical activities, the functioning of the body is also getting affected (Side Effects or Sedentary Lifestyle). In such a situation, people have started having stomach problems during work from home. Due to the sluggishness of the digestive system, many problems like bloating, gas, indigestion, acidity and sour belching, people are feeling during this time.
Similarly, due to not eating food on time, changing the time of sleeping and waking up and even due to wrong choice of food items i.e. unhealthy eating, people are also facing many stomach related problems. When you do not eat at the right time, your problems increase, which can lead to serious problems like chronic constipation or irritable bowel syndrome (IBS).
Remove the problem of indigestion, basil leaves, know how much should be consumed, its benefits
Constipation and indigestion problem even after eating light food? Do these easy steps and get relief in a pinch
Make the digestive system strong with ginger, rock salt and lemon:
If you consume some domestic and Ayurvedic things, then these problems related to your stomach are reduced to a great extent. Due to which, these simple things that improve digestion are available in your kitchen. One such thing is ginger. Whenever there is a problem of indigestion, take some ginger or dry ginger. You can also drink it by mixing it with rock salt and lemon juice. The mixture of these three will eliminate all the problems related to digestion and will also give rest to your stomach.
This mixture of ginger, rock salt and lemon helps in the production of digestive juices by reaching the stomach. Therefore, consuming it before meals can be beneficial for you. In such a situation, people who often feel problems like stomach gas or indigestion, prepare this mixture before meals and lick it. ( Ayurvedic Home Remedies for Indigestion)
Why this mixture is beneficial:
Ginger – Along with being digestive, reduces problems like nausea and vomiting. It enhances digestion, so that your food is easily digested and you get relief from stomach related problems.
Rock salt- Increases the metabolism of the body. Thereby, it helps in creating pH balance in the body and in the formation of electrolytes. Due to which all the functions of the body work smoothly.
Lemon – Being a good source of Vitamin C, it not only improves digestion but also strengthens your immune system. (Home Remedies for Indigestion)
How to Treat Digestive Problems with Home Remedies
To correct and strengthen poor digestion, include ginger in your food. It produces digestive juices and enzymes that digest food in the body. The carminative, antibacterial, antiviral, properties found in it prevent your digestive power from getting worse.
Use 2 to 3 cups of ginger tea with honey without milk in a day.
Chew small pieces of ginger after eating to keep the digestion process right.
Probiotic food
Probiotic foods strengthen your digestive system and its ability to function. The Lactobacillus and Bifido bacteria found in it restore your gut bacteria in a natural way as well as protect and treat any kind of digestion problem. Yogurt, buttermilk, kefir, cabbage, and sour pickles are great probiotic foods.
Peppermint
The use of peppermint corrects your poor digestion and helps in protecting against diseases related to digestion. It provides relief from gas formation in the stomach, bloating and cramps due to prolonged abdominal pain.
Put a spoonful of peppermint leaves in a cup of hot water and keep it covered for 10 minutes and then filter it and drink it. Drink peppermint tea twice a day.
Use peppermint leaves by sprinkling them in food daily or use with salads. Apart from this, you can also use peppermint capsules 2 to 3 times a day for a few weeks.
Fennel
The use of fennel provides great relief in heartburn, indigestion and acidity. It also provides relief in abdominal cramps, cramps.
Using a spoonful of fennel after eating helps indigestion.
When the digestive system is bad, drink half a teaspoon of fennel powder with a glass of water twice a day. Put a teaspoon of crushed fennel in a cup of hot water and use it as a tea.
Asafoetida
The antioxidant, anti-inflammatory properties found in asafoetida are good for digestion. It is very effective in the treatment of gas, abdominal pain, flatulence, food poisoning etc.
To keep the digestion right, mix a pinch of asafetida in a glass of warm water and use it after eating.
Mixing a little asafetida in water and rubbing it around the navel of small children will get relief from gas and pain in the stomach.
Apple Cedar Vinegar
It helps to keep your digestive system healthy. Acid is found in it, yet it has an alkalizing effect in your body. It helps in improving digestion and treating problems like indigestion, gas, bloating. Apart from this, pectin is found in it, which is a water-soluble fiber that regulates bowel movements.
To keep the digestive system healthy, drink a cup of hot water with a spoonful of apple cider vinegar and a little honey and drink it 2 to 3 times a day.
Isabgol
Isabgol makes your digestion regular and strong. The insoluble fiber found in it facilitates bowel movement and helps in problems like flatulence, gas, constipation etc.
Mix half to one teaspoon of Isabgol husk in a cup of warm water or milk and drink it before sleeping, doing this will clean your stomach properly in the morning.
Aloe vera
The laxative property found in it helps in the smooth functioning of the digestive system. It is beneficial in many digestive diseases, inflammation, burning and even stomach ulcers.
Mix two spoons of aloe vera gel in a cup of water or orange juice and drink it every morning on an empty stomach.
Note- Pregnant women or women who are lactating children should not use it.
Turmeric
The curcumin element found in turmeric helps in the removal of bile from the gallbladder and proper functioning of the liver. It is used in the treatment of various digestive problems including indigestion, peptic ulcer, IBS, ulcerative colitis.
To prevent digestive problems, drink half a teaspoon of turmeric juice with a glass of water. You can also use curcumin supplements. Consult a doctor for its regular dosage.
Oatmeal
Oatmeal contains ample amount of fiber which removes your complaint of constipation. It is low in fat and easy to digest, meaning you can use it even when you are suffering from diarrhea.
Start the day for a healthy digestive system
Some of the following measures can be adopted to prevent diseases of the digestive system. Do not consume soft drinks.
Food should be eaten slowly.
Do not eat more than one meal at a time.
Eat light food at night.
do not smoke.
Do not eat very greasy be done.
Clean your hands and eat food.
and spicy food.
Do not lie down immediately after eating.
Daily exercise and yoga should
If you have an urge to have a bowel movement, then you should go to the toilet immediately. Due to not going at that time the stool becomes hard, due to which there is difficulty and pain in bowel movement.
Whatever medicines you are taking, check them thoroughly because some medicines cause the problem of burning in the stomach.