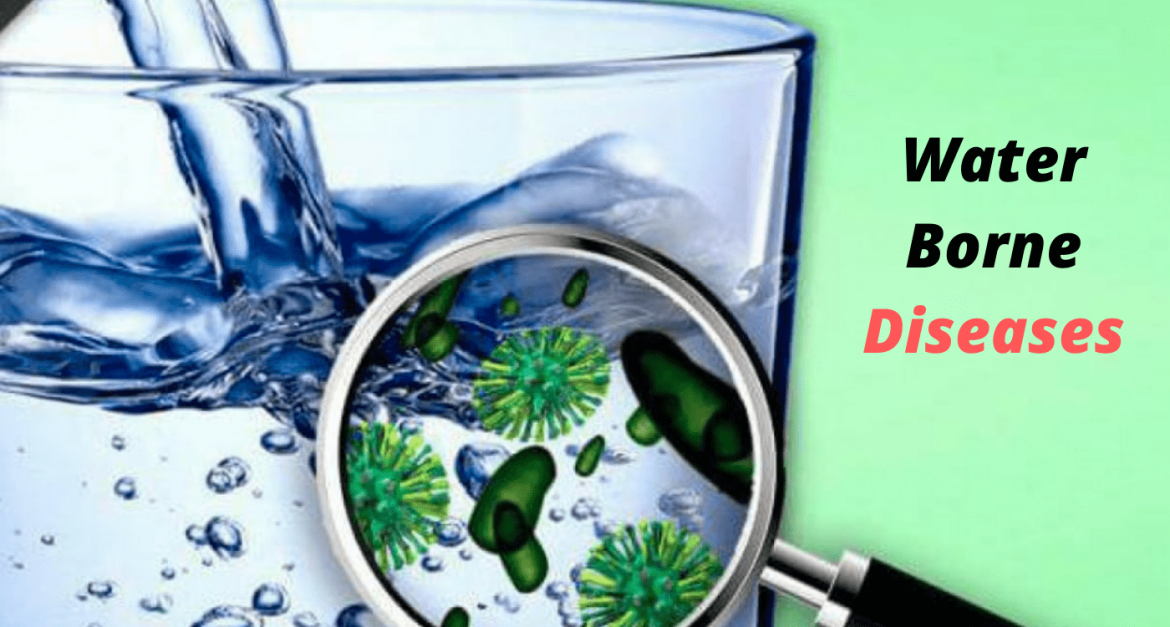 Water Borne Diseases
27 Jan, 2022
Posted by admin
Waterborne diseases are a major challenge to the world population, especially in developing countries.
The World Health Organization (WHO) and UNICEF estimate that water borne diseases are responsible for 80% of all diseases and one-third of all deaths in developing countries. In India alone, more than 3000 people die every day due to diseases caused by contaminated water. In a separate report, WHO estimates that 88% of all waterborne diseases are caused by poor sanitation, hygiene and an unsafe water supply.
Causes of Waterborne diseases:
There are two main causes of waterborne diseases:
Hazardous levels of chemicals, nitrates or heavy metals in water supplies due to pollution such as industrial pollution or overuse of agricultural chemicals.
Dirt and Infection – Bacteria, viruses and parasitic organisms invisibly contaminate water and cause disease. Mostly this infection occurs through water coming in contact with animal and human waste. A single gram of faeces can contain up to 100 billion microbes.
Symptoms of Waterborne Diseases:
Waterborne diseases are many and varied, such as diarrhea and cholera and polio and meningitis. These can be incredibly serious, life-changing, and even life-threatening for those who are infected, but there are steps you can take to protect yourself from waterborne diseases and illnesses.
The associated symptoms and problems with water borne diseases are-
Diarrhea and gastroenteritis
Abdominal pain and cramps
Typhoid fever
Cholera
Meningitis
Guinea-worm disease
Hepatitis etc.
Myth and truth
Waterborne diseases only occur in developing countries?
Waterborne diseases can occur anywhere, but they may be more prevalent in rural areas due to lack of infrastructure to provide clean, safe water, drainage and sanitation.
Do waterborne diseases affect only vulnerable communities?
It is a myth, waterborne illness can affect anyone, although the effect depends on the disease it causes, it can have a more severe effect on young people, children, the elderly and people living in critical condition.
AYURVEDA REMEDIES FOR WATERBORNE DISEASES
Add on these things in your daily diet, you will be able to protect yourself from the water borne diseases and seasonal infections.
Tulsi or Holy Basil
The use of basil does not allow water-borne diseases to dominate the body.
Tulsi contains iron, antioxidants, anti-inflammatory properties and anti-bacterial properties.
All these work to keep the body healthy.
Keep stomach healthy and prevent infection.
People who use Tulsi regularly, their stomach is generally fine. Just avoid the consumption of Tulsi in the month of May-June because Tulsi has a hot tendency in effect.
Garlic is like nectar
You must have also heard an old saying about garlic, it is said that if there was more medicinal element in garlic, then garlic would have become nectar.
Consume garlic in these ways- If you use garlic regularly and in limited quantities in lentils, vegetables and chutneys, then the germs that spread the infection are not able to have a negative effect on your digestive system.
Garlic works to increase the immunity of the body.
Eating raw tomato is beneficial
Tomato vegetable is not as beneficial for health in summer and rainy season as it gets in winter.
But eating raw tomato in the form of salad is beneficial in every season.
Tomatoes are rich in antioxidants.
It is helpful in increasing hemoglobin in the body, purifying the blood and protecting it from infectious diseases.
Therefore, you must consume tomatoes in the form of salad and juice in monsoon.
Gourd juice
Gourd juice works to increase the immunity of the body and correct the digestive system.
If you consume bottle gourd juice in the morning 3 to 4 times in a week then you will get immense benefits.
Keep in mind that such juices are not consumed in large quantities at a time.
Bottle gourd juice prevents diarrhea, loose motion, indigestion, etc. Mix black salt in bottle gourd juice and consume it. This enhances its taste and properties.
Mint is very beneficial
Mint is one of the few herbs that have antifungal and antibacterial properties as well as some amount of Vitamin-D.
By using mint in lentils, chutneys, salads, etc., you can avoid diseases caused by infected water.
How to take Peppermint Extract- If you want, you can also consume mint juice.
To prepare it, you add one teaspoon of mint extract and the same amount of honey to 1 teaspoon of lemon juice.
Mix all these in half a glass of water and drink it sip by sip. Doing this regularly helps in keeping the digestive system right.
Prevention tips
Make sure the water is clear in appearance and free of any silt or sand. The water can be filtered to remove any visible dirt.
Always drink clean and safe water. Use either clean potable water or clean water that has been sterilized using water purifiers to kill any harmful bacteria present. Do not drink untreated water.
Make sure any water stored is clean and germ free container for later use.
If the water is stored for bathing, add some Dettol antiseptic liquid as directed in the bath water to kill harmful bacteria.
Practice excellent hand hygiene such as washing hands thoroughly with soap after using the toilet, before preparing food, and before eating.
Make sure all food is washed, cleaned and thoroughly cooked to kill harmful bacteria and other harmful germs.
Get immunized to protect yourself from vaccine-preventable diseases.