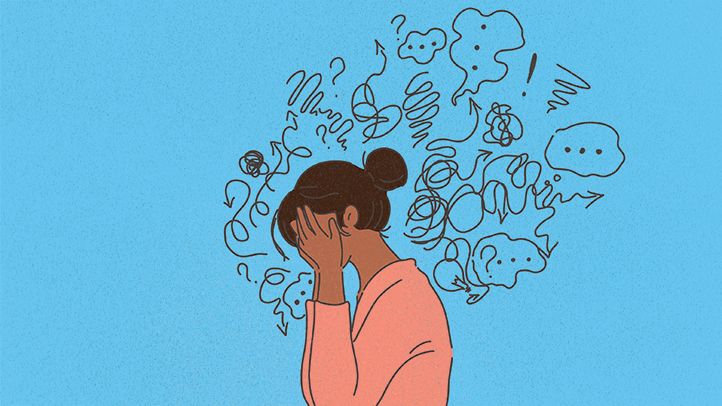 What are Anxiety disorders and how to recover from it naturally?
21 Jan, 2022
Posted by admin
What is Anxiety?
Anxiety is a condition in which people experience intense, excessive and persistent worry and fear about everyday situations. People experience rapid breathing, fast heart rate, sweating and feeling tired. Experience occasional anxiety is normal part of life.
These feelings of anxiety and panic disturb your daily activities, are difficult to control. You may avoid situations or other conditions that are trigger your condition to prevent these feelings.
Anxiety disorders include specific phobias, generalized anxiety disorder, social anxiety disorder. Person may have more than one anxiety disorder.
Symptoms of anxiety disorders
Common signs and symptoms of anxiety that people experience may include:
Feeling nervous, restless
Having a sense of danger
Having an increased heart rate, breathing
Sweating
Feeling weak or tired
Having disturbed sleeping
Experiencing gastrointestinal (GI) problems
Common types of anxiety disorders include:
It is a type of anxiety disorder in which the person avoids the situations or places that may be reason for your panic attack and make you feel helpless or embarrassed.
Involves frequent episodes of feelings of anxiety and fear. Person may experience shortness of breath, chest pain, or Heart palpitations.
Generalized anxiety disorder
It includes excessive anxiety and worry for prolonged period of time even about ordinary, routine issues.
Anxiety disorder due to a medical condition
It includes symptoms of anxiety or panic that are caused by any health .
Separation anxiety disorder
It is a childhood disorder in which child experience anxiety from the developmental level and related to separation from parents or others family members.
Social anxiety disorder (social phobia)
It involves feeling of anxiety, fear and avoidance of social situations due to thinking about embarrassment, self-consciousness and having concern about being judged by people.
You should consult with doctor if
Your fear, anxiety is difficult to control
You you're worrying too much and it's affecting your work, relationships or other parts of your life
You are in depression
You have suicidal thoughts or behaviors
Your worries may not go away on their own, and they may get worse over time if you don't consult with doctor about your condition.
Causes of Anxiety disorders
However the causes of anxiety disorders aren't fully known. Life experiences like traumatic events, Loss of near one, facing failures in life may trigger anxiety in people.
Hereditary factors can also be a reason.
 Medical causes
For some people, anxiety may be due to any medical issue. Medical problems that can lead to anxiety may include:
Heart disease
Diabetes
Thyroid problems, such as hyperthyroidism
Respiratory disorders like COPD etc.
Occur after any drug withdrawal
In conditions like Ulcerative Colitis, IBS
Risk factors
Factors which may increase your risk of developing an anxiety disorder:
Children who experience abuse or trauma in childhood or Adults who witnessed traumatic events are at higher risk of developing an anxiety disorder at some point in life.
Stress buildup. Buildup of stressful situations of life may trigger excessive anxiety
Other mental health disorders. People with insomnia, depression, often have an anxiety disorder.
Having family history with an anxiety disorder. Anxiety disorders can run in families.
Drugs or alcohol. Drug or alcohol use or withdrawal can cause or worsen your anxiety.
Complications
Having an anxiety disorder can lead to many complications which include
Trouble sleeping (insomnia)
Depression (which often occurs with an anxiety disorder) or other mental health disorders
Digestive or bowel problems
Substance misuse
Headaches and chronic pain
Social isolation
Problems functioning at school or work
Poor quality of life
Suicide
Prevention
You can take some steps to reduce severity and impact of symptoms if you're anxious:
Stay active. Participate in activities in which enjoy and that make you feel happy. Enjoy social interaction
Meditation and breathing exercises
Avoid alcohol or drug use.
Consult with doctor timely
Diagnosis
Doctor may go for your psychological evaluation. This involves discussing about your thoughts, feelings and behavior to confirm the diagnosis and check for related complications.
Doctor may compare your symptoms to the criteria in the DSM-5 that published by the American Psychiatric Association, to diagnose an anxiety disorder.
Treatment of Anxiety disorders
Two main treatments that are used for anxiety disorders include psychotherapy and medications.
Psychotherapy
Cognitive behavioral therapy (CBT) is the most effective form of psychotherapy.
Medications
Medications that are used to relieve symptoms include
Anti-depressants.
An anti-anxiety medication like buspirone .
Sedatives, like benzodiazepines.
Lifestyle and home remedies
This condition of anxiety can also be better managed with lifestyle changes along with psychotherapy or medicinal treatment. These changes involves
Keep physically active.
Avoid alcohol and other drugs.
Quit smoking
Use stress management and other relaxation therapies.
Take a good quality of sleep
Eat healthy and nutritious diet
Management of Anxiety of with Ayurveda
Chandigarh Ayurved centre provides effective medications that are helpful to treat all kind of anxiety disorders naturally. These products are made up of pure ayurvedic herbs without any adulteration. CAC provide Anti-stess kit that treats the condition effectively. Herbal products in Anti-stress kit include
Rasayan Vati
Mann Mitra Tablet
Stress Care Tablet
Brain Relaxant Churna
These medicines are balances the overall nervous system and manage the condition.
For more information you can visit our website
https://www.chandigarhayurvedcentre.com/product/anti-stress-kit/