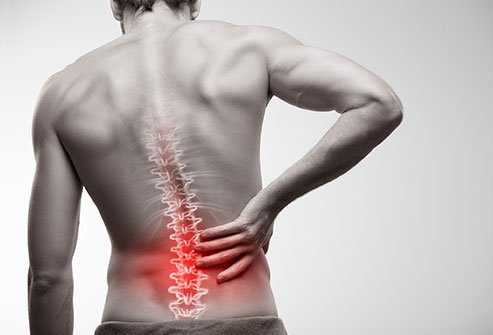 WHAT ARE THE CAUSES OF BACKACHE
25 Aug, 2021
Posted by admin
DESCRIPTION –
It is one of the most common medical complaints particularly among the adults.
Backache usually a pain of muscles, intervertebral joints, spinal nerves and bone pain. Backache can be acute or chronic.
Acute pain is often temporary and can improve on its own without treatment or with mild pain relieving medication.
Chronic back pain is more long-term and can be extend beyond several months.
CAUSES OF BACKACHE –
The human back is composed of a complex structure of muscles, ligaments, tendons, disks, and bones, which work together to support the body and enable us to do work and movement.
Problems occur with any of these components can lead to back pain.
In some cases of back pain cause remains unclear or occur without any cause.
Damage occur in back due to several conditions such as:
Back pain commonly occur from strain, tension, and injury. Frequent causes of back pain are:
strained muscles or ligaments
a muscle spasm
muscle tension
damaged disks
injuries or fractures

Activities that can lead strains or spasms include:

lifting something improperly
lifting something that is too heavy
making an abrupt and awkward movement

Structural problems

Structural problems may also result in back pain like,
Rupture disks – Each vertebra is cushioned by disks. If the disk is ruptures there will be more pressure creating on a nerve resulting back pain.
Bulging disks – a bulging disk can result from more pressure on a nerve.
Sciatica – sharp and shooting pain travels through the buttock and down the back of the leg, caused by bulging or herniated disk that cause pressing on a nerve.
Kidney problems – Kidney stones or kidney infection may cause back pain.
Congenital and acquired disorders causes for back pain
Ankylosing spondylitis – inflammation of joints between the vertebrae of the spine
Discitis – infection of an intervertebral disc
Fibromyalgia – chronic condition that causes muscle pain, stiffness and tenderness
Osteoarthritis – degenerative joint and underlying bone disease.
Osteomyelitis – infection of bone
Osteoporosis – thinning and weakening of the bones
Rheumatoid arthritis – autoimmune disease characterized by joint inflammation
Scoliosis – abnormal curvature of the spine
Spinal stenosis – narrowing of the spinal canal that create pressure on the spinal cord and nerves
Spondylitis – spinal degeneration

Movement and posture 
Back pain can also result from some everyday activities or poor posture including :
Twisting
Coughing or sneezing
Muscle tension
Over-stretching
Pushing, pulling, lifting, or carrying something
Standing or sitting for long periods
Straining the neck forward when driving or using computer
Long driving sessions without a break
Sleeping on a mattress that does not support the body.
Other 

Cauda equina syndrome – it is a bundle of spinal nerve roots that arise from the lower end of the spinal cord. Symptoms of cauda equina syndrome include a dull pain in the lower back and upper buttocks, numbness in the buttocks, genitalia, and thighs.
Cancer of the spine – A tumor on the spine may cause nerve compression resulting in back pain.
Infection of the spine – fever and tender, warm area on the back could be due to an infection of the spine.
Other infections – Pelvic inflammatory disease, bladder, or kidney infections may also lead back pain.
Sleep disorders – people with sleep disorders are more experience back pain as compared with others.
Shingles – it is an infection that affect nerves and lead to back pain.
Sign and symptoms 
Weight loss
Fever
Inflammation or swelling on the back
Persistent back pain
Pain down the legs
Pain that reaches below the knees
Urinary incontinence
Difficulty urinating
Fecal incontinence
Loss of control over bowel movements
Numbness around the genitals
Numbness around the anus
Numbness around the buttocks
Prevention
Exercise – Regular exercise helps to build the strength and control body weight. Low-impact aerobic activities can boost heart health without straining or jerking the back.
Diet – diet includes enough calcium and vitamin D, as these are needed for bone health. A healthful diet also helps control body weight.
Smoking – smokers have higher percentage of back pain incidences compared to non-smokers.
Body weight – people with heavy weight have greater risk of back pain. People who carry their weight in the abdominal area versus the buttocks and hip area have greater risk of back pain.
Posture when standing – Stand upright, head facing forward, back straight, and balance your weight evenly on both feet.
Posture when sitting – A seat for working should have good back support, arm rests and a swivel base. When sitting try to keep knees and hips in level and keep feet flat on the floor or use a footstool.
Lifting – When lifting the things use legs to do the lifting rather than back. Keep your back as straight as you can.
Shoes – Flat shoes place less strain on the back.
Bed – use mattress that keeps spine straight, and pillow that do not forces neck into a steep angle.
Treatment
Nerve up tablet – These tablets are pure ayurvedic formulation. Nerve up tablets help in balancing the vata doshas and kapha dosha. It acts as nervine stimulant. It shows effective results in improving the central nervous system. It contains natural ingredients like shudha kuchala, shudha shilajeet, praval pishti, shankh bhasma etc. This tablet helps in Backache, kneepain, headache, bronchitis, depression.
Recommended Dosage– Take 1 tablet twice daily.
Back Care tablet – Back Care tablet is an herbal and purely Ayurvedic formulation. This tablet helps by strengthening your back muscles in relieving back pain whether it be by sciatica, arthritis, and kidney infections, infection of the spine and cancer of spinal cord. It helps to pacify Vata dosha and also helps in maintaining proper blood circulation. This is often used for mild to moderate pain all over the body and relaxes your muscles. It contains herbs that act as natural pain relievers.
Recommended Dosage – Take 1 tablet twice daily.
Panchasakar Churna – Panchsakar Churana is an Ayurvedic formulation that consists of five ingredients named as – Saindhavan Lavana – (Rock Salt), Swarnapatri – (Cassia angustifolia), Shatapushpa – (Anethum sowa), Shunti – (Zingiber officinale), Balaharitaki – (Unripe fruits of Terminalia chebula).Panchasakar Churna is naturally detoxifying, thus it removes the toxins from the body. The churna has an anti – inflammatory properties due to which it can reduces the swelling. It is also effective in reducing the weight, which can help to reduce the pressure on lumbar area.
Recommended Dosage – Take 1 teaspoonful with Luke warm water at bedtime.
Pain-O-Kill Oil – This herbal oil contain ingredients like – Rasna (Pluchea lanceolata), Kustha (Saussurea lappa), Jyotishmati (Celastrus paniculatus), Vatsnabh (Aconitum ferox), Devdaru (Cedrus deodara) etc. This oil is an Ayurvedic medicine which gives best result in all types of pain. It is beneficial for the muscle relaxant, sports injury, low back pain, weakness, etc. This oil has a good result in reducing the inflammation.
Method of Usage – It is applied on the affected portion of the body and massage with light pressure. Do this procedure twice a day.
Pain O Kill Tablet – Pain-o-kill tablet is ayurvedic and purely herbal formulation. It help to relax your muscles and muscles cramps thus relieving pain. It balances all the three doshas of your body thus maintaining proper blood circulation. It provides soothing effect to the affected area of pain. It contains various herbs like Jivanti, Musta, Usher, Bilwa, Shatavri  and Kantakari. All these h