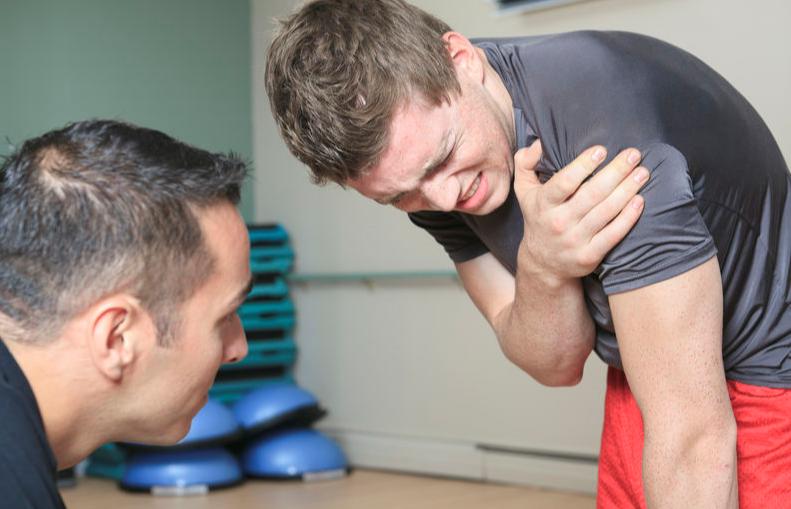 WHAT IS ADHESIVE CAPSULITIS AND HOW TO TREAT IT
09 Sep, 2021
Posted by admin
ADHESIVE CAPSULITIS
Frozen shoulder, also called adhesive capsulitis.
Shoulder capsule thickens and becomes stiff and tight. Thick bands of tissue called adhesion develop.
Painful condition in which the movement of the shoulder becomes limited and synovial fluid in the joint become less.
It is characterized by stiffness and pain in shoulder joint later progressively restricted active and passive joint range of motion with spontaneous complete or nearly complete recovery over a varied period of time.
Signs of this condition are severe pain and being unable to move shoulder own or with the help of other people.
SIGN AND SYMPTOMS
Stage 1: Freezing
In this stage slowly or more and more pain.
Shoulder becomes stiff and is painful to move and pain slowly increases.
It may worsen at night.
Pain worsens shoulder loses range of motion.
It lasts from 6 weeks to 9 months.
Stage 2: Frozen
Pain may actually improve during this stage but the stiffness remains constant.
Lasts from 4 to 6 months "frozen" stage,
Daily activities may be very difficult.
Stage 3: Thawing
Shoulder motion improves during this "thawing" stage.
Complete return to normal or close to normal strength of the body
It lasts for 6 months to 2 years.
CAUSES
The exact causes of adhesive capsulitis are not known.  Few factors may put more at risk for developing this condition.
Diabetes – it is occurs much more often in people with diabetes. The reason for this is not known. Diabetic people with adhesive capsulitis tend to have a greater degree of stiffness this stiffness continues for a longer period of time before "thawing."
Other diseases – Some medical problems associated with adhesive capsulitis include hyperthyroidism, hypothyroidism, Parkinson's disease, and cardiac disease.
Immobilization – adhesive capsulitis can occur after a shoulder has been immobilized for long period of time due to fracture, surgery or other injury.
RISK FACTORS
Certain factors may increase risk of developing frozen shoulder.
Age and sex – People over 40 and older particularly women, are more likely to have frozen shoulder.
Immobility – People who decreased mobility of the shoulder for a long period are at higher risk of developing adhesive capsulitis. Immobility may be the result of many factors including:
Rotator cuff injury
Broken arm
Stroke
Recovery from surgery
Systemic diseases – People who have certain diseases have more likely to develop frozen shoulder. Diseases that might increase risk include:
Diabetes
Overactive thyroid (hyperthyroidism)
Underactive thyroid (hypothyroidism)
Cardiovascular disease
Tuberculosis
Parkinson's disease
AYURVEDIC TREATMENT
The Ayurvedic treatment for adhesive capsulitis is aimed to treat stiffness and pain and preserving the mobility of the shoulder joint.
Aims of the treatment also based upon balancing the vitiated vata.
Different Herbs and their combinations along with Panchakarma therapies are effective to cure adhesive capsulitis from its root cause.
HERBS USED FOR FROZEN SHOULDER
Eranda –  analgesic and anti-inflammatory properties
Bala – anti- oxidant and anti-inflammatory properties
Rasna – balance vata dosha and acts as analgesic and antispasmodic
Ashwagandha – decrease pain and give strength to shoulder muscles
Vidanga – detox the joint as well as decrease it's inflammation
Guggulu – Acts as analgesic and anti-inflammatory
Chakramarda – Decrease the joint pain and swelling
Haridra – Best anti-inflammatory and antibacterial herb
Sonth – Acts as vata pacifier, analgesic and anti-inflammatory herb
Shallaki – it acts as muscle relaxant, analgesic and anti-inflammatory.
AYURVEDIC THERIPIES FOR FROZEN SHOULDER ARE:
Snehana and Swedana – This process involves application of medicated oil then giving local steam
it liquefy and remove the toxins
decrease stiffness and pain.
Abhyangam – A full body massage done with medicated herbal oils.
It relieves pains and aches in shoulder joints by lubricating them
improves blood circulation.
Nasyam – administration of medicated drugs or oils through nostrils.
Medicated oils or powders stimulate the vital centers of brain
reduce pain perception.
Expelling the imbalance doshas above the neck.
Pizhichil – medicated oil is squeezed in the body using a cotton cloth.
This is done along with massage.
Improving shoulder muscle tone and strengthen them.
Greeva Basti – In Greeva Basti prepared warm herbal oil
oil poured over the neck and retained inside a well created black gram paste or whole wheat flour.
Reduces pain and stiffness in neck and shoulder region.
Lepam – Lepam of herbal paste or oil
externally decreases pain and inflammation
Sneha Basti – Sneha Basti involves enema using medicated oil.
It reduces vata vitiation and thus reduces pain.
CAC TREATMENT FOR ADHESIVE CAPSULITIS
Detox Premium Powder – This is a herbo-mineral preparation that contains ingredients such as Giloy satv, parval pishti, gandhak rasayan, shukta pishti, kamdudha rasa, etc. These all ingredients in combination show antioxidant, anti- inflammatory, & analgesic properties. It helps in reducing pain, numbness, stiffness, & inflammation associated with a slipped disc problem. Detox powder is useful in eliminating Ama (toxins) from body.
Recommended Dosage – Take 1 sachet twice daily with normal water after 30 minutes of meal.
Nerve Up Tablet – It is pure herbo-mineral formulation which helps to balance the vata dosha. It act as nervine stimulator and also reduces Kapha doshas. It mainly acts on central nervous system. It contains natural ingredients like Shudha kuchala, Shudha shilajeet, Abhrak bhasma, Praval pishti, Shankh bhasma etc. These contains natural Vatahar properties and helps in curing vata diseases. It speeds up physical and mental processes. It helps in painful joints, stiffness, inflammation, swelling and general weakness.
Recommended Dosage – Take 1 tablet twice daily with normal
Vata Balance tablet – Vata balance tablet is a rejuvenating blend of herbs is specially formulated to balance Vata doshas without aggravating Pitta or Kapha doshas. It may be used to support overall health and well-being by Vata constitutions with or without food. For those with a dual constitution that includes Vata or a tridoshic constitution, it is an excellent formula for the Vata season, which in most parts of the world is autumn and early winter. This is the time when Vata gets aggravated. Healthy Vata contains herbs that help the system remain balanced throughout the season.
Recommended Dosage – Take 1 tablet twice daily.
Pain-o-kill oil – As the name suggests Pain-O-Kill Oil reduces pain, inflammation, stiffness, & weakness in slipped disc patients. Applying this herbal oil gives effective results in lower backache, weakness, relaxes muscles, stiffness, & swelling.
Method of usage – Take little oil in your hands and gently massage over the affected of the body.
Active Plus Tablet – active plus Tablet is a pure herbo-mineral formulation prepared from best quality of herbs. This tablet is best for person mental and physical health, also helps to boost up the immunity. The herbal ingredients present in these tablets are used to maintain person's health and refreshes the mind and body. These tablets improves digestion, eliminates constipation, stress, nourishes brain, acts as antioxidant, analgesic, anti-inflammatory, etc.
Recommended dosage – Take 1 tablet twice daily with normal water.
Pain O kill Tablet – As the name suggests these tablets will kill the pain naturally. The herbs present in the formation of these tablets are Ashwagandha, Hadjod, Punarnava, Nirgundi, Methi, Garlic, etc. These herbs in combination show antioxidant, analgesic, anti-inflammatory, immuno-modulator properties. The regular use of these tablets reduce body pain and acts on its root cause.
Recommended dosage – Take 1 tablet twice daily with normal water.