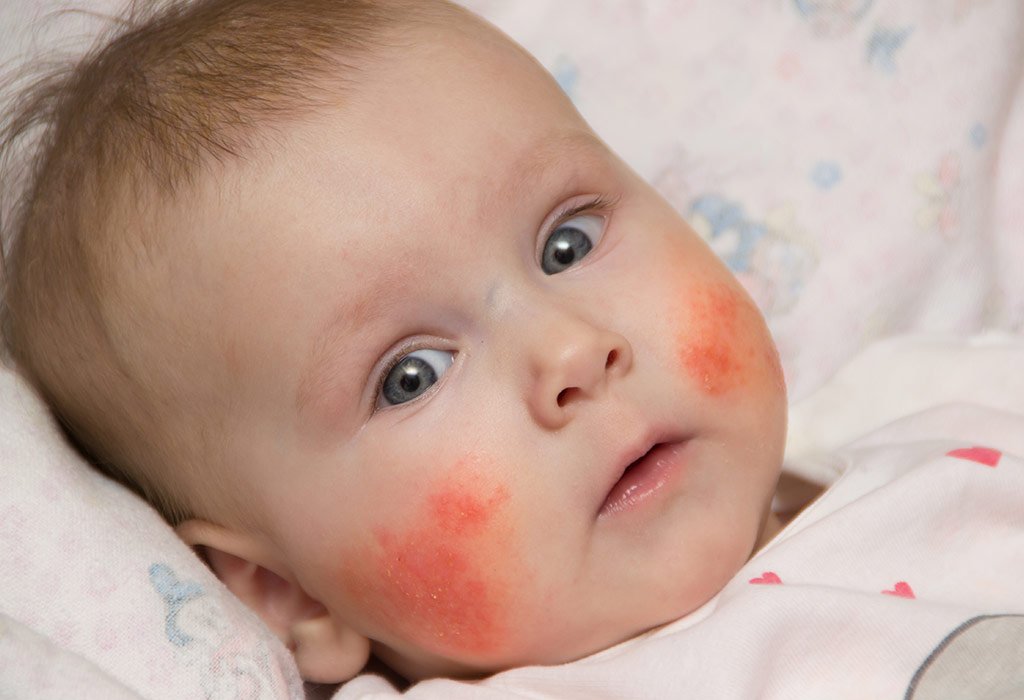 WHAT IS ATOPIC ECZEMA? HOW TO CURE IT NATURALLY
27 Sep, 2021
Posted by admin
Atopic Eczema is also known as atopic dermatitis; Atopic denotes allergic or hypersensitive reaction and eczema is characterised by dry, rough, itchy, flakey, inflamed, and irritated skin.
It is a most common condition that makes your skin red, inflamed, swelling, vesicle formation (minute blisters) and extremely itchy. It is common in children but can be present in all age groups.
Unfortunately, there is no satisfactory treatment available in modern medical practice except antihistamines and topical steroids but fortunately Ayurveda helps a lot in controlling and treating this problem in a natural way.
SYMPTOMS-
It is associated with the following symptoms-
Itching or burning at the affected area especially during night time.
Presence of Brown and red colored spots on feet, hands, wrists, throat, chest and face.
Some people may experience pimples on your face with pus.
Thick, rough and hardness of skin may be present.
Feeling of discomfort on itching, skin becomes more sensitive and further increase the chance of infection.
Acute atopic dermatitis produces weeping, oozing plaques of extremely itchy skin.
Chronic atopic eczema appears as thickened and elevated plaques of scaling skin.
CAUSES
If you have a healthy skin, it helps to retain moisture and protects you from harmful bacteria, irritants and allergens.
Atopic Eczema may be due to Genetical factor – A variation of gene that affects the skin's ability to provide the protection. So, it allows your skin to be affected by certain factors like environmental factors, irritants and allergens. In some children, food allergies may also cause eczema.
Ayurvedic view in Atopic dermatitis
In Ayurveda perspective the Atopic Eczema is having similarity with the symptoms of Vicharchika, which is a type of kshudrakustha and had been seen since ancient period of time with the following symptoms-kandu or itching, Srava or Discharge, Pidika or vesicles and Shyava varna or discoloration of skin.
Based on the clinical presentations, Vicharchika is often correlated to eczema.The line of treatment for vicharchika in Ayurveda is Shodhana therapy or Prificatory measures and shaman aushadhis or Medication.
RISK FACTORS-
The main risk factor for Atopic eczema is that the person having family or personal history of eczema, allergies, hay fever or asthma.
COMPLICATIONS
The major complications of Atopic Eczema are listed below-
Asthma and hay fever
Chronic itchy, scaly skin
Neurodermatitis (lichen simplex chronicus)
Increase the risk of skin infections through bacteria and viruses, including the herpes simplex virus.
Irritant hand dermatitis
Allergic contact dermatitis.
Insomnia or Sleep problems
PREVENTION-
Some tips may help you to prevent from bouts of dermatitis (flares) and minimize the drying effects of bathing-
Skin miniaturization- One should moisturize the skin at least two times a day with Creams, ointments and lotions, petroleum jelly or products that work well for you. This may help you to prevent from development of atopic dermatitis.
Identify and avoid triggering factors- Triggering factors can worsen the condition. For Example- Sweat soaps or face wash, stress, obesity, detergents, dust and pollen.
Identifying potential food allergies- Your Infants and children may experience flares from eating some sorts of food items like eggs, milk, soy and wheat.
Shorten the duration of baths or showers- Use warm, rather than hot water and make limitations while bathing i.e. time should not be more than10 to 15 minutes.
Use only gentle soaps and detergents- Choosing mild soaps are a good idea for prevention from Atopic Eczema.
Keep yourself dry- One should dry yourself carefully after bathing with a gentle pat your skin and dry with a Hygienic soft towel and apply moisturizer while your skin is still damp. 
AYURVEDA TREATMENT FOR ATOPIC DERMATITIS
CAC prepared special medicinal Kit for the "Atopic Eczema" which is very effective herbo-mineral formula. It promotes your skin health and cures the condition.
It comprises of the following medications-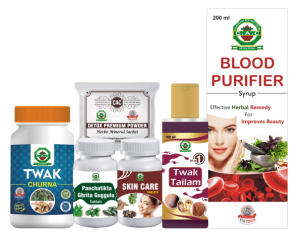 ECZEMA CARE KIT
| | | |
| --- | --- | --- |
| SR. NO. | PRODUCTS NAME | QUANTITY |
| 1. | Detox Premium Sachet | *1sachet twice daily |
| 2. | Panchtikta Ghrit Guggulu | *2tablet twice daily |
| 3. | Blood Purifier Syrup | *2tsf twice daily |
| 4. | Twak Churana | * ½ to 1 tsf twice daily  with water |
| 5. | Skin Care Tablet | *2 tablet twice daily |
*The dosage of the above medication may vary from person to person. So it is advisable to take it after consultation with the Doctor.
DETAILED DESCRIPTION OF THE PRODUCT-
Detox Premium Powder:
This is a herbo-mineral preparation that contains ingredients like Parwal Pishti, Giloy satv, Shukta Pishti, Kamdudha Ras, Gandhak Rasayan, etc.
Parwal Pishti: This Pishti reduces inflammation, flaking, itching of the skin. The Pishti is composed of natural coral calcium processed with rose water.
Shukta Pishti: It helps to balance the Pitta dosha in the body. All signs and symptoms related to Psoriasis patients are managed with this article.
Giloy Satv: This satv is prepared from the herb Giloy (Tinospora cordifolia). The anti-inflammatory, antioxidant, and analgesic properties of this herb deal with psoriasis easily.
Kamdudha Ras: This herbal-mineral classical preparation balances Pitta dosha in the body.
Gandhak Rasayana: This herbal preparation is used since ancient times for all types of skin disorders.
Tal Sindoor: It contains ingredients like Shuddh parad, Aloe vera, Gandhak, etc that relieve redness in psoriasis patients.
Akik Pishti: This Pishti reduces all types of Pitta related disorder hence it gives good results in psoriasis.
Blood Purifier Syrup:
It is ayurvedic syrup that consists of various natural ingredients such as Khadir Chall (Acacia catechu), Manjistha (Rubia cordifolia), Neem (Azadirachta indica), Giloy (Tinospora cordifolia), Harad (Terminalia bellirica), Baheda (Terminalia chebula), Amla (Emblica officinalis), etc. As the syrup purifies the blood by removing excess toxins it is very beneficial in maintaining proper circulation and improves the skin naturally.
Panchatikta Ghrita Guggulu:
The tablets are very beneficial in curing skin diseases as it contains the Pitta pacifying ingredients such as Shuddh guggulu (Commiphora mukul), Neem (Azadirachta indica), Amrita (Tinospora cordifolia), Gajapippali (Piper chaba), Shunthi (Zingiber officinalis), etc. The tablet is Tridoshahara, thus is very effective in maintaining the hormonal level in the body.
Skin Care tablet:
Skin care tablet is herbo mineral and purely ayurvedic formulation. It contains various herbs like Haridra khand, Panchnimba churna, Panchatikta guggulu, Patol patra, Ajmoda, Khadir chhal, Chirayta, Mulethi, Manjistha, Chopchini, Gandhak, etc. Skin care tablet is a blood purifying. It cools and detoxifies the blood, dissolves obstructions in the blood flow that further increase blood circulation of the skin. It minimises the blemishes, lighten sun tan, delay ageing of skin and heal skin problems. These tablet also act as a skin moistuirizer, Improves blood circulation, Remove blemishes, Reduce itching and burning sensation of skin, Prevent acne and pimples, Relieves leucoderma.
Twak Churna:
It is a composition of two main ingredients – Yashtimadhu (Glycyrrhiza glabra) and Manjistha (Rubia cordifolia) that are considered as the best herbs for skin. The churna has anti-inflammatory, antibacterial, and antiandrogenic abilities that treat acne and also prevent it from re-occurrence. The herb Manjistha acts against bacteria such as Propionibacterium acne and Staphylococcus epidermidis which play a role in the development of pimples.