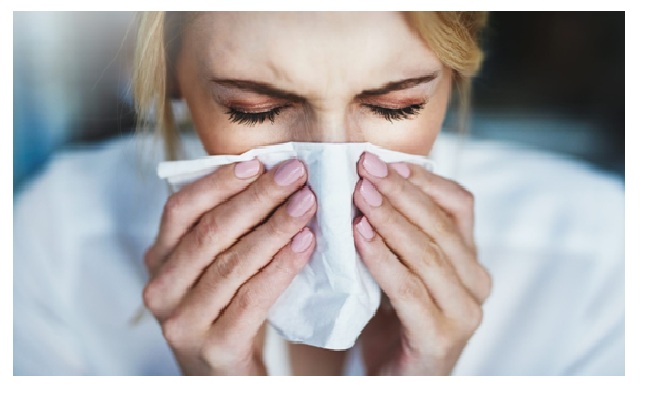 WHAT IS COMMON COLD HOW TO CURE NATURALLY IN WINTERS
18 Jan, 2022
Posted by admin
INTRODUCTION:-
The common cold, also known as a cold, is a viral infectious disease of the upper respiratory tract that mainly affects the respiratory mucosa of the nose, throat, and larynx. Signs and symptoms may appear less than two days after contact to the virus.
These may comprise coughing, runny nose, sneezing, headache, sore throat and fever.Peoplegenerallyimprove in seven to ten days but some symptoms may last up to three weeks.
The common cold is a viral infection of nose and throat (upper respiratory tract). It's generally harmless, although it might not feel that way. Several types of viruses can cause a common cold.
SYMPTOMS
Symptoms of a common cold usually appear one to three days after contact to a cold-causing virus. Signs and symptoms, which can differ from person to person, it may  include:-
Runny or stuffy nose
Sore throat
Cough
Congestion
Slight body pains
Mild headache
Sneezing
Low-grade fever
Generally feeling unwell
The discharge from nose may start out clear and become thicker and yellow or green as a common cold runs .
CAUSE:-
Although various types of viruses can cause a common cold,but rhinoviruses are the most common cause.
A cold virus enters body through mouth, eyes or nose. The virus can spread through droplets in the air when someone who is sick coughs, talks or sneeze.
It also spreadby hand-to-hand contact with somebody who has infected or by sharing contaminated objects, such as eating utensils, towels,key-board or telephones. If touch eyes, nose or mouth after such contact, then you get infection .
RISK-FACTORS:-
Risk factors can increase chances of getting a cold:-
Age:- Infants and young children are at highest risk of colds, specially if they spend time in child care settings
Weakened immune system:- Having a chronic illness or otherwise weakened immune system increases the risk of infection.
Time of year:-Both children and adults are more likely to get colds in fall and winter, but you can get a cold anytime.
Smoking:- You're more likely to catch a cold and to have more-severe colds if you smoke or are around secondhand smoke.
Exposure:-If you around crowds, such as at school or on an airplane, you arepossible to be exposed to viruses that cause colds.
PREVENTIONS:-
Wash your hands:- Wash your hands carefully and often with soap and water for at least 20 seconds. If soap and water are not available, use an alcohol-based hand sanitizer that contains at least 60% alcohol. Teach to children the importance of hand-washing. Avoid touching eyes, nose or mouth with uncleanedhands.
Disinfect your stuff:-Clean and disinfect high-touch surfaces, such as  light switches, electronics, almirah,and kitchen and bathroom countertops daily. This is speciallyessential when someone in  family has infected. Wash children's toys time to time.
Cover your cough:-Sneeze and cough into tissues. Throw away used tissues right away, then wash  handscarefully.
Don't share:- Don't share drinking glasses or eating utensils with other family members. Use your own glass or disposable cups .
Stay away from people with colds:- Avoid near contact with anyone who has infected. Stay out of crowds, when possible. Avoid touching  eyes, nose and mouth.
Take care of yourself :-Eating healthy diet and getting exercise and enough sleep is good for overall health.
AYURVEDIC VIEW FOR COMMON COLD:-
In Ayurveda, common cold is called PRATISHAYA. In this condition, all the three doshasof body are responsible. Cold occurring just beacause ofvatadosha is indicated by symptoms such as mucus discharge, a runny nose, and dry cough.
In case of cold because of pitta dosha, a sore throat, fever and blocked nose are showed. Due to kaphadosha people experience headaches, heaviness in the head, and thick mucus discharge.
NATURAL TREATMENT FOR COMMON COLD:-
Leaves of tulsi plant mixed with an equal quantity of dried ginger powder form ansuperb substitute for tea during cold and flu. It may be taken by adding milk and sugar twice-thrice a day.
Juice of ginger and holy basil one-one tea spoon mixed with one tea spoon honey, to be taken two-three times a day.
Powder of black pepper (marich) half tea spoon mixed with jaggery two times a day.
Small piece of Ginger fried in ghee, to be taken two times a day.
One teaspoonful of the powder or paste of turmeric to a cup of milk or fried turmeric powder taken with 1-2 gm of ghee mixed with warm milk thrice a day. This gives instant relief and help in fast recovery.
Gargle with warm turmeric powder 2-3 times a day to cure sore throat.
Drink a glass of warm water mixed with lemon juice and sugar for taste. Take the same at sleep time as it gives relief from nasal mucus.
Two to three tea spoon of fresh juice of Amla or half to one tea spoon powder of the same is good to control cold.
DIET PLAN FOR COMMON COLD:-
EARLY MORNING:- Warm water
BREAKFAST:-Veg. dalia/ veg. upma/veg poha/veg. vermicelli(sewian)/veg. idli/stuffed chapatti/chapatti with veg. dal/1 egg white portion.
MID-MORNING:-Coconut water/fruit juice/fruits/any kind of herbal tea
LUNCH:-Chapatti+vegetable/dal+salad
EVENING:-Green tea/roasted grams/rice flakes snack
DINNER:-Chapatti+vegetable+dal
AYURVEDIC HERBS USED IN COMMON COLD:-
SONTH
DALCHINI
TULSI
GILOY
AMLA
MARICH
PIPPALI
LAVANG
LASHUN
ASHWGANDHA
SHATAVRI
CAC SPECIAL MEDICATION FOR COMMON COLD:-
HERBAL CHAYWANPRASH
COUGH GO TABLET
IMMUNO BOOSTER TABLETS
AYUSH KWATH