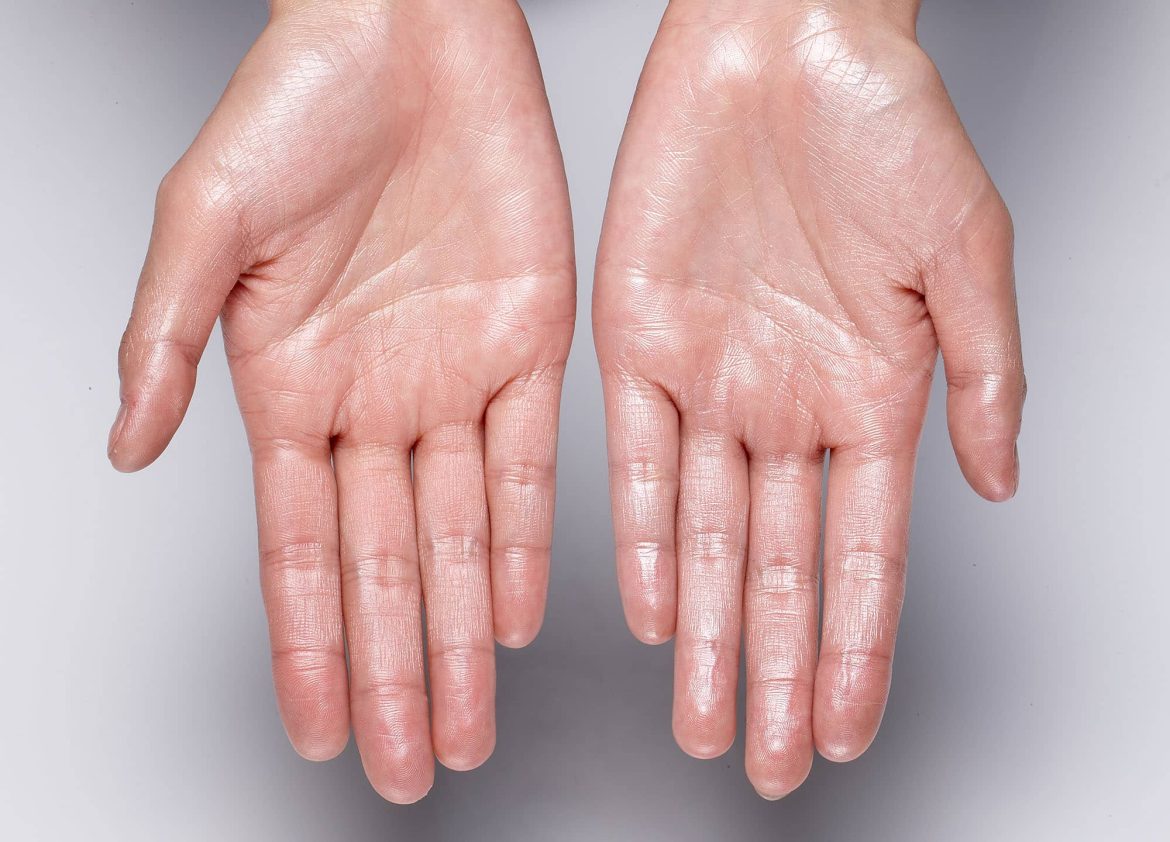 What is Hyperhidrosis and How to Cure it Naturally?
22 Jan, 2022
Posted by admin
Hyperhidrosis is condition in which excessive sweating occurs abnormally that's not necessarily related to heat or exercise. Sweating may occur so much that it soaks through your clothes or drips off your hands.
In this the sweat glands or the nerves cause the overproduction of sweat. This type of heavy sweating not only disrupts normal daily activities but also leads to social anxiety and embarrassment.
Symptoms of Hyperhidrosis
Heavy sweating is noticed among people
When they are in a hot environment
While doing exercise or exertion
In anxious condition or under stress.
The excessive sweating experienced with hyperhidrosis exceeds than normal sweating.
This excessive sweating mainly notices on the hands, feet, underarms or face causes at least one episode a week. And this sweating occurs on both sides of the body.
Causes for hyperhidrosis
Sweat glands
Sweating is natural phenomenon of your body to cool itself. Your nervous system automatically triggers your sweat glands when your body temperature rises. Sweating also occurs normally, especially on your palms, when you're nervous.
Primary hyperhidrosis
This is the most common form of hyperhidrosis and is called primary focal (essential) hyperhidrosis. In this type, the nerves which signal your sweat glands become more active, even without any physical activity or a rise in temperature. In conditions of stress or nervousness, the problem becomes even worse.
There is not any underlying medical cause for this type of hyperhidrosis. It may be because of heredity, because it sometimes runs in families.
Secondary hyperhidrosis
In this type excess sweating occurs due to a medical condition. It's the less common type. It mostly cause sweating all over your body. Medical Conditions that may cause excessive sweating include:
Low blood sugar
Diabetes
Hot flashes after menopause
Some types of cancer
Infections
Heart attack
Disorders of Nervous system
Complications
Complications of hyperhidrosis include:
Social and emotional effects. Having clammy or dripping hands and clothes soaked with sweating can be embarrassing when you are surrounded by people. Your condition can also affect your pursuit of work goals.
People who sweat more are prone to much kind of skin infections.
When to see a doctor
Sometimes excessive sweating is a sign of any serious medical condition. You should immediately consult with doctor if sweating is accompanied with chest pain or nausea.
Consult with doctor if:
Sweating disturbs your daily routine
Sweating is more than usual
Sweating causes distress or social withdrawal
You experience night sweats for no apparent reason
Diagnosis of Hyperhidrosis
Diagnosis can be made by taking complete medical history and symptoms. Further physical examination or tests are done to evaluate the cause of the condition.
Lab tests
Investigation like blood test, urine test or other lab tests may recommend to see if your sweating is caused by another medical condition, like an overactive thyroid (hyperthyroidism) or low blood sugar (hypoglycemia).
Sweat tests
A number of tests are there to know the severity of the condition, including skin conductance test, an iodine-starch test, and a thermoregulatory sweat test.
Treatment of hyperhidrosis
If excessive sweating is occurring due to any medical condition then that condition will be treated first. If no clear cause of sweating found, then the treatment mainly focuses on controlling the excessive sweating.
Medicinal treatment
Medications used to treat hyperhidrosis include:
Prescription antiperspirant.
Prescription creams.
Nerve-blocking medications.
Botulinum toxin injections.
Surgical and other procedures include:
Sweat gland removal
Nerve surgery (sympathectomy)
Microwave therapy
Home remedies to cure hyperhidrosis naturally
Apply Apple Cider Vinegar
Apple cider vinegar is used to clean, preserve food, and even to help with some skin conditions. It can be helpful to control the odor-causing bacteria that contribute to hyperhidrosis symptoms like bromhidrosis.
So Use apple cider vinegar as a natural astringent. You can use it by applying it to your skin before going to bed and washing it off in the morning.
Make a Baking Soda & Cornstarch Paste
Both baking soda and cornstarch are helpful to absorb sweat, lower pH levels, and block odors. This acts as natural deodorant. You can make it by mixing baking soda with an equal part of cornstarch and applying it to clean, dry underarms.
Epsom Bath Salts Soak
Add some Epsom salt in water before 15-20 minutes while taking bath they act as an all-natural hyperhidrosis treatment.
Apply Lemon Juice
Lemon juice is another all-natural deodorant. Apply fresh lemon to your underarms at night, and then take a bath in the morning.
Apply Tea Tree Oil
Like other home remedies, tea tree oil is a natural astringent and is helpful to reduce odor-causing bacteria. To get its best results apply it using cotton balls to sweaty areas once or twice daily.
Maintain your Diet and life style
If you are taking the diet that increases sweating then they could be contributing to your hyperhidrosis symptoms. Be careful while taking diet. Correct diet may relieve the symptoms of hyperhidrosis. Here are some tips:
Follow a diet low in carbohydrates.
Adopt a gluten-free diet.
Lower sodium intake.
Drink more water to stay hydrated and cool.
Eat foods that help in your digestion like cucumbers, leafy greens, olive oil and watermelon etc.
Take vitamin B supplements.
Add some fresh juices in your diet like
Wheatgrass juice – contains vitamins and acts as natural detoxifier
Tomato juice – That shrinks pores, which slows excessive sweating.
Decaffeinated green tea contains magnesium and Vitamin B, which helps in constricting sweat glands.
Do exercise
Stop Smoking and avoid alcohol
Manage your Stress by meditation or other breathing exercises
The Final word
Finding effective home remedies for treatment of hyperhidrosis and its symptoms takes time and patience. Using these natural hyperhidrosis remedies may be an effective, affordable and safe way to treat and manage excessive sweating.