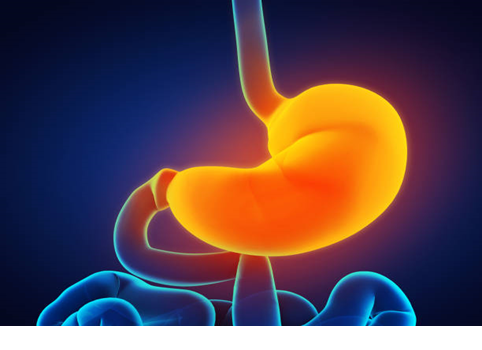 What is the Role of Acid in our Stomach?
24 Feb, 2022
Posted by admin
Gastric acid or stomach acid is a watery, colorless fluid that is produced in your stomach.
This stomach acid helps break down food for easier digestion. Due to which our body absorb nutrients more easily as food moves through your digestive tract.
In order to break down everything that we eat stomach acid has to be highly acidic.
Our body is designed in such a way to handle levels of stomach acid so it doesn't lead to any illness or health complications.
Sometimes, due to disturbance in the system gastric juices with low or high levels of acidity can be lead to problems.
What is the role of Hydrochloric acid in our stomach?                                         
Acidity level is measured on a pH scale. The lower the level of pH , the stronger is the acidic levels.
Gastric juices helps in breakdown of the larger foods particles that we eat into easier-to-digest particles. This HCl acid also acts as the first line of defense against many pathogens and microbes. These actions require a liquid that's quite acidic.
Stomach acid has pH range between 1 and 2. That makes it quite acidic.
Which acid is produced in our stomach?
Stomach acid's low pH level is largely due to hydrochloric acid (HCl).However, there's only a very small amount of HCl in stomach acid. Other components like potassium chloride (KCl) and sodium chloride (NaCl) are also present.
The cells lining your stomach wall secrete this gastric juices also release many enzymes and mucus.
This mucus secreted is also important for the process of digestion. This mucus protects the stomach lining so the acid and other gastric juices don't damage the sensitive organ.
Low levels of hydrochloric acid
Stomach acid's level may vary from time to time. Certain situations, Dietary factors, medication and stress, can interfere with the process. These factors may affect the production of HCl in your stomach and leads to many GI related problems.
Symptoms of low HCl levels
People may experience symptoms like:
Indigestion
Burping
Bloating
Nausea & Vomiting
Flatulence
Generalized weakness
In early stages of low HCl people have difficulties in digesting food and absorbing the nutrients that body needs to function properly.
Treatment for low HCl levels
The treatment for low acid gastric juices will depend upon the type of cause.Your doctor may prescribe HCl supplement that will increase your stomach acid's pH level.  Doctor may also recommend medications with the enzyme pepsin that helps to increase stomach acidity.
Other treatments include:
Antibiotics to treat an underlying infection
Proper diet management and increased supplements
Medication management
Stress management
What happens if your stomach acid has high levels of HCl? 
If the level of gastric acid in your stomach is too high, then mucus in your stomach may stop being effective. Increased value of stomach acid can lead to many complications, including:
Gastric ulcers
Acidity
Gastroesophageal reflux disease (GERD)
Symptoms of high HCl levels
The most common symptoms of high stomach acid levels include:
Nausea or vomiting
Bloating
Decreased appetite
Anorexia
abdominal discomfort that may be worse on an empty stomach
Diarrhea
Heartburn
Weight loss
How to treat Acidity or high HCl levels
In modern science , high stomach acid is most commonly treated with medications. Proton pump inhibitor work to lower stomach acid. Sometimes PPIs can be given with other medications.
Other treatments will also be used that depend on cause of these high acid levels. These treatments may include:
Antibiotic
dietary changes
 Acidity natural treatment     
Acidity may leads to Heartburn, burning sensation in the chest region or throat, difficulty in swallowing, hiccups etc. These symptoms affects the quality of life of a person .
So, here are list of simple and effective home remedies that will help you get relief from acidity.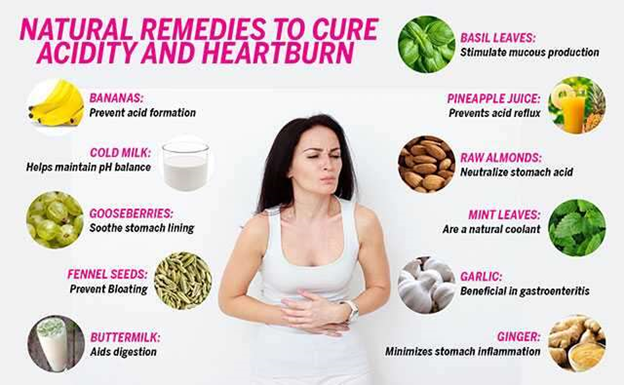 Drink cold milk
This is one of the simplest and commonly used home remedies for acidity. One glass of cold milk help in preventing acidity. Milk is rich in calcium, it may prevent acidic buildup in your stomach.
Coconut water
Taking coconut water daily might help you with heartburn relief. It is rich in fiber, helps to soothe your digestive system.
Ginger
Ginger can be used as the one of the most effective home remedy for acidity. Ginger has digestive and anti-inflammatory properties.
Ginger can be used in cooking or you can just chew a slice of fresh ginger. Also, it can be used after boiling in water as herbal tea.
Buttermilk
Buttermilk is the most helpful home remedies for acid reflux and heartburn. It contains lactic acid that normalizes the acidity in stomach effectively.
Drink a glass of buttermilk daily after any meal may help to get relief from acidity.
Mint leaves
Mint leaves acts as natural cooling agent. It is commonly known as pudina . Mint leaves possess digestive properties and helps you get relief from acidity and heartburn.
Tulsi leaves 
Also known as Basil, that help to produce mucous in stomach and may soothe the stomach lining as well.
You can chew 2-3 basil leaves or boil them in water and drink it to get immediate relief from acidity.
Ayurvedic Treatment for Acidity
Chandigarh Ayurved centre provides the best ayurvedic treatment to treat acidity . CAC provides effective combination of medicines that are made up of natural herbs in the form of   'Acidity care kit'. This kit contains combination of medicines that prevents the acid reflux and other symptoms of acidity
Acidity care kit contains
Agnimukha Churna
Puran Pachak
Sheet dhara
Panchaskar churna
Liver care tablets
Pitta balance tablets
For  detailed description  about the medicines you can visit our website
https://www.chandigarhayurvedcentre.com/product/acidity-care-kit/