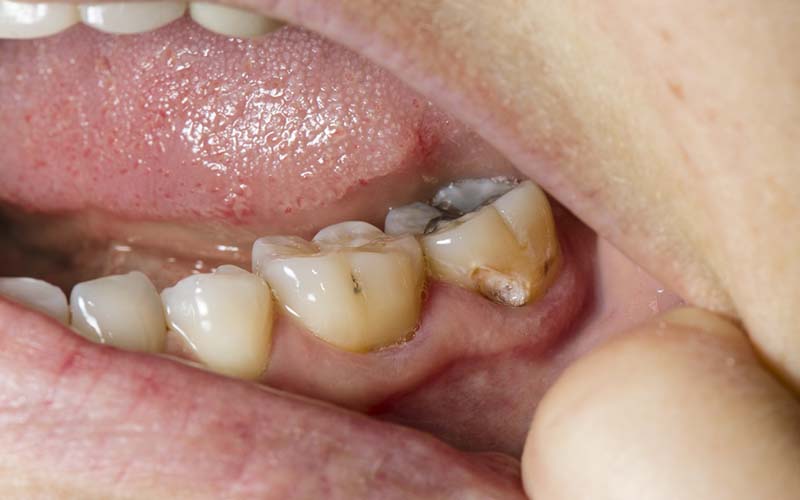 What is tooth decay and cavity? What are the Home remedies to cure it naturally?
25 Jan, 2022
Posted by admin
What are cavities?
Cavities are the damaged areas in the hard surface of your teeth that after damage develop into tiny openings or holes. Cavities are also known as tooth decay or caries, are caused by number of factors, that include frequent snacking, bacteria in your mouth; taking sugary drinks and not cleaning your teeth well.
Cavities and tooth decay are common and mostly found health problems in all over the world. They're common in every age group including children, teenagers and older adults.
Symptoms
The signs and symptoms of cavities vary from one to another person depends on severity of the condition. In beginning, you may not have any symptoms but as the decay progresses, it may cause signs and symptoms such as:
Toothache, Mild to sharp pain while eating or drinking something sweet, hot or cold
Spontaneous Pain or pain without any cause
Tooth sensitivity
Brown or black staining on tooth surface
Causes of tooth decay
Cavities are caused by tooth decay and this occurs over time. Here's how tooth decay develops:
Plaque forms. Plaque is a sticky substance that coats your teeth. Plaque formation occurs on tooth after eating a lot of sugars and starches and not cleaning your teeth well. After that bacteria start feeding on sugar and starch that form plaque. Plaque after staying for longer time hardens and converts into tartar (calculus). Tartar more difficult to remove plaque and creates a shield for bacteria.
Plaque attacks. The acids in plaque cause erosion of enamel and causes tiny openings or holes in the enamel — the first stage of cavities. Once areas of enamel are eroded, then bacteria and acid can reach the next layer i.e. Dentin. Dentin is more sensitive and has tiny tubes that communicate with the nerve of the tooth causing sensitivity.
Destruction continues. Then process of decaying continues and goes next to the inner pulps that have nerves and blood vessels. The pulp becomes swollen and cause pain, discomfort.
Risk factors
Everyone is at risk of getting cavities, but certain factors increase risk that includes:
Tooth location. Decay most commonly occurs in your back teeth (molars and premolars). Because these parts contains pits or grooves so it is harder to keep them clean.
Eating disorders. Like Anorexia and bulimia can cause tooth erosion and cavities.
Certain foods and drinks. Foods that stick to your teeth for longer time — like sugar , cakes , snacks , milk, ice cream, honey etc.
Heartburn. Due to Heartburn or GERD, stomach acid flow into your mouth (reflux), that can affect your enamel and cause tooth damage.
Other conditions include
Frequent snacking or sipping
Inadequate brushing
Bedtime infant feeding
Not getting enough fluoride.
Younger or older age
Complications
Cavities and tooth decay are so common in people that they may not take them seriously and will suffer from complications that may include
Toothache
Swelling or pus around a tooth
Chewing problems
Damage or broken teeth
When cavities and decay progresses and become severe, you may have:
Pain that may disturb your daily living
Tooth loss that may affect your confidence and self-esteem
Weight loss may occur due to difficult or painful chewing
In rare cases, a tooth abscess may form.
Diagnosis
Your dentist can diagnose tooth decay by:
History taking – Asking about your toothache and sensitivity
Examination – By doing examination your mouth and teeth
Probing your teeth with dental instruments
X- ray – That can show the severity or extent of cavities and decay
Your dentist will also tell you about three types of cavities that you may have — smooth surface, pit and fissure, or root.
Treatment Options
Regular checkups can help you to find out cavities and other dental conditions. The sooner you take care of this, the better your chances of reversing the earliest stages of tooth decay and prevent its further progression.
In modern science usually treatment options include:
Fluoride treatments
Crowns
Fillings or restorations
Root canals
Tooth extraction
Preventive measures involve
Good oral and dental hygiene can help you to avoid cavities and tooth decay. Here are some preventive measures that include
Brush your tooth with fluoride toothpaste at least twice daily
After eating or drinking Rinse your mouth.
Drink some tap water
Avoid frequent snacking and sipping
Eat tooth-healthy foods
Home Remedies to Get Rid of Tooth Cavities
Clove oil
Application of clove oil 2-3 times a day on the affected area is very effective and gives relief from pain. The oil helpful in preventing cavity as clove has anti-inflammatory and anti-bacterial properties. Take 1-2 drops of clove oil to a cotton swab and apply the oil to the cavity.
Oil pulling
Oil pulling is the ancient method to keep dental hygiene. You can use sesame or coconut oil. Keep Luke warm oil for 10-15 minutes in your mouth; swish it around your mouth. You can use it as mouthwash. This will help you to remove toxins and harmful bacteria from the mouth.
Garlic
Taking one piece of garlic on an empty stomach daily. Will help to maintain oral health and get rid of tooth pain as it kills bacteria.
Vitamin D
Food rich in Vitamin D like dairy products should be taken to prevent tooth decay. Vitamin D helps in preventing dental cavities.
Guava leaves
Guava leaves are rich in antimicrobial properties which are effective in preventing cavity. It can also be used as mouth wash by making decoction from crushed leaves. Use the mixture as a mouth wash.
Green tea
Green tea helps to prevent plaque formation in mouth. You can also add lemon juice and honey to it for better results.
Saltwater
Gargle with the mixture of salt water after having a meal. Saltwater helps in removing toxins from mouth.